This week, designer Kimberly Lewis showed us four other ways to use wallpaper around the house.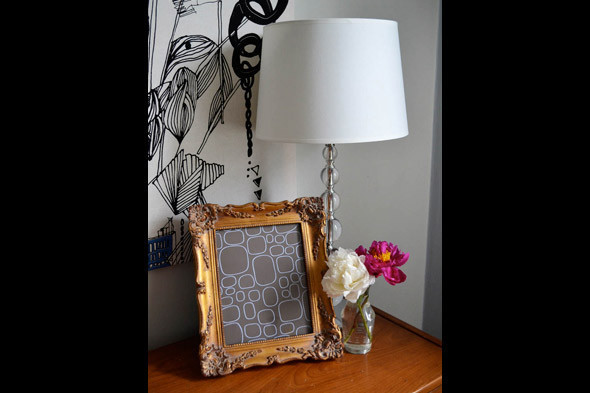 Photo by: Kimberly Lewis
If you've fallen in love with a wallpaper pattern that just doesn't work in your space, you can still use it in your decor. Just frame it and call it artwork. Or, you can use wallpaper to put the focus on a fab vintage frame. Says Kimberly:
"I had bought this vintage frame at a yard sale a while ago and it was sitting in my closet because I hadn't found the right piece of art for it. I decided that it was too pretty to not be put out and admired. I cut a piece of my wallpaper Pebble in Dusk to fit and ta-da instant art! Patterns can easily be changed out depending on your mood or season."
Missed this week's Random Recast? Here's a recap:
Project #3: Wallpaper Bunting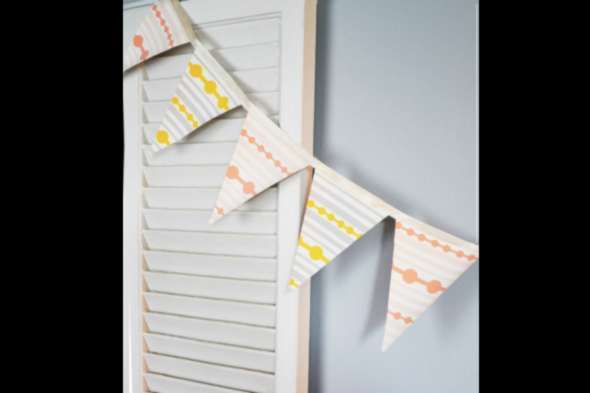 Photo by: Kimberly Lewis
Bunting makes a sweet decoration for a party, but it also makes a darling nursery decoration when made using a stylish wallpaper in a muted color. (Like Kimberly Lewis Home's Striped pattern in Cloudberry and Canary.)
"I love the idea of wallpapering an accent wall for a nursery, then using the leftovers to make bunting to hang on an adjacent wall," Kimberly says. "Here, I ran the stripes horizontal instead of vertical because I like how it feels a bit nautical."
To make the bunting, simply cut triangle-shaped flags from wallpaper, then secure the long ends to a length of ribbon using glue.
Project #2: Custom stationery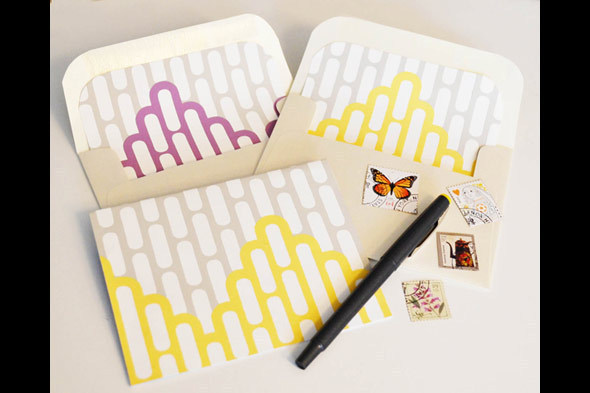 Photo by: Kimberly Lewis
Why does this always happen: You have to dash off a thank you note, but there's none to be found. Or, you make a mistake on the last card you had. Not to worry, if you have scraps of wallpaper lying around. Here, Kimberly folded pieces of her Sierra pattern in the Cadmium and Aubergine colorways to fit an envelope. For an extra-special touch, she cut a piece of coordinating wallpaper to fit the interior of the envelope, then tucked it inside to create a liner. To see how to make your own envelope liners, visit 100 Layer Cake.
Make your own custom stationery set by folding wallpaper scraps into notecards. For that extra-special touch, line the envelopes with coordinating wallpaper.
Project #1: Pinwheels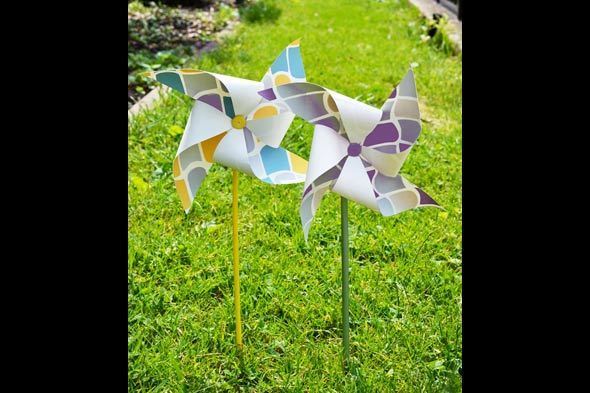 Photo by: Kimberly Lewis
When it comes to wallpaper, it is easy to buy far too much and end up with extra square footage that you're not sure what to do with. (Or if you're like me, you end up getting sample-happy and now have tons of swatches for no real reason.) But Kimberly Lewis of Kimberly Lewis Home says that this is a good thing: Wallpaper can go beyond simply covering walls.
Here, Kimberly uses scraps from her wallpaper design Marigny (shown here in the Atmosphere and Plume colorways) to make these cheerful little pinwheels. She used the tutorial from Green Lily Designs to craft hers, but with a few changes based on what she had in her apartment:
"Instead of wooden skewers, I used metal knitting needles to add some color. And since I didn't have any brads, I affixed the pinwheels to the needle using hot glue and a flat bead. I'm imagining these as party decorations used indoors or out, but it would also be fun to do a bouquet of them in different sizes and patterns for a centerpiece."
Custom pinwheels make adorable party decorations. I know of a bride who filled her reception with them, which made the atmosphere fun and charming (just like her).
Want to catch up with past Random Recast projects? Check out...
Random Recast: New Uses for Milk Jugs Round-Up
Random Recast: New Uses for Rope Round-Up
Random Recast: New Uses for Grocery Bags Round-Up
Random Recast: New Uses for Aluminum Foil Round-Up