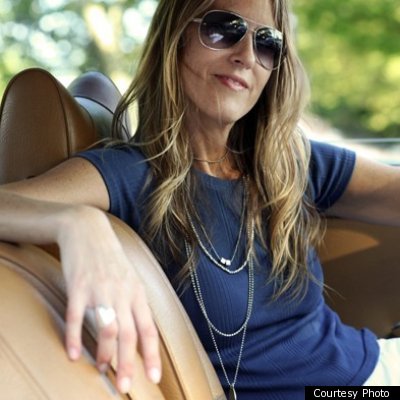 To say that Julia Leach has a noticeable knack for turning the bland into bold would be a serious understatement. She spent eleven years as Kate Spade's creative director, taking its modest, conservative style and instilling a more contemporary, long-lasting and wildly popular distinct look and feel into the brand. Now, she's putting her design talent into a much more personal project by launching her own line called Chance.
Available now only online, the collection of "nonchalant" and timeless basics like tanks, button downs and beach accessories is all held together by one key ingredient - the striped tee. The Breton nautical look is unquestionably iconic, and is already a staple in most girls' wardrobe. Thanks to Julia though, the striped sailor shirt's been re-invigorated again, and this time with a sense of adventure and endless summertime spirit. We chatted with the designer about how the line came to be, where her love of travel comes from, a secret patch of freckles and why a Chance hotel would be the ultimate destination for her designs.
Besides the sailor stripe as a key ingredient, what else really inspires you when creating the pieces for Chance?
My first and longstanding love is really graphic design, I've really pulled a lot of inspiration from that vocabulary and the world of mid-century graphic design like Paul Rand and Saul Bass and Lester Beall. Travel is a second component to that. My Mom's lived in Europe for almost twenty five years so there's a certain sense of style that I think of as international classics; it's not so much preppy as it's a sense of nonchalance and ease whether in Stockholm or Buenos Aires or Tokyo or the Mediterranean. It's kind of like Jude Law's character in The Talented Mr. Ripley; I think those clothes are timeless and have an ease and elegance to them.
In terms of the striped shirt, it was always less about the nautical theme for me and more about what it represents as an icon. It always comes back to design simplicity, personal style and adventure. Those are what that particular garment is to me, it represents a whole idea of living and looking and dressing and creating.
You recently had a Chance pop-up shop that ended its run in NYC this month. Where did the idea to open a pop-up shop come from?
It really was to just get the collection up on its feet and introduce it to editors and to a small audience. Chance is a repository for everything I love and one of the things I love most is creating environments, whether it's my apartment in the city or my house upstate or the things I did with Kate Spade in the showrooms and the stores, I love creating a world that people walk into and they feel something. Like people who visited the pop-up would say, "I feel like I just went on a mini vacation!" So I was just itching to dimensionalize the ideas that people were enjoying and appreciating on the website.
Will Chance ever have a standalone store? You've talked also about the possibility of opening a Chance hotel as well...
We are planning to have multiple stores but you know, one step at a time. I'm definitely eager to and it will probably be around next spring when we open the first real store. The hotel would be the ultimate expression of all the things I mentioned before in terms of creating a Chance environment. Especially so because travel is just running through my DNA and has for a very long time. When I travel I'm sort of a student of the great hoteliers and the decisions they make and little gestures that are so subtle but that you appreciate so much as a guest, so I think that that really discreet, gracious hospitality would be so much fun to create. I think it would be fun to bring that casual elegance and ease from Europe and do it in Florida and California and people can experience that sensibility that you usually have to go to Europe to get.
What are three of your weekend getaway staples?
White jean shorts, my boyfriend's vintage button down shirts that I wear over Chance tank tops and bikinis and with a sarong. Then an old floppy gardening hat that I got from my Mom that always gets folded up and stuffed in a corner of my bag. I also have an old Thomas Maier bikini that I've had forever, it's just a simple black bikini but it fits perfectly and goes with everything.
What was your first designer purchase?
It was a white cotton ribbed Norma Kamali bikini that I bought in Minneapolis when I was 15.
Where was your first passport stamp from?
Mexico, age 5.
If you could be any literary character who would it be?
Scout Finch from To Kill a Mockingbird, the tomboy.
Mojito or Margarita?
Prosecco? I'm a little bit of a lightweight...
Facebook or Twitter?
As a visual person I'd have to to say Facebook. Chance has a Twitter account but we're still trying to figure out how to make it fun and not have it be me sharing my every move with the world.
What's one thing that few people know about you?
Sort of silly, but I have a set on freckles in the shape of a smiley face on my left arm. There are probably only two people that know about that in the world, my Mom and my boyfriend.
Of you could have on superpower what would it be?
Time travel. I'd make several stops and probably go back to Paris in the late teens, early twenties and then fast-forward to California in the sixties.