Emma Watson has revealed her fear of Hollywood and the fashion world, as she prepares for life post-Hogwarts.
On the eve of her last performance as Hermione in the eighth and final Harry Potter film, Watson has given a revealing interview to Harper's Bazaar magazine, where she explains how she can't face a future of always worrying about her appearance.
"LA scares the crap out of me," says the 21-year-old screen veteran.
" I feel if I have to work out four hours a day, and count the calories of everything I put in my mouth, and have Botox at 22, and obsess about how I look the whole time, I will go mad, I will absolutely lose it."
But the brown-eyed star, who has been a luminary of the glamour mags since her 2009 recruitment helped reinvigorate the Burberry brand, is equally concerned by aspects of the fashion industry:
"It can be savage and cruel, in that it's prescriptive – you have to look a certain way and fit a certain mould – but also in the way it's made. When I went to Bangladesh, to a factory where the clothes are made [for mass market labels], it was horrifying. There is a cost to cheap clothes – if people could see the inhumane way they're made, they would never in a million years buy them..."
Watson has also rejected claims that she was hounded out of Brown University by classmates, saying her decision to leave the US campus was nothing out of the ordinary:
"[Leaving Brown] had nothing to do with bullying, as the media have been suggesting recently. I have never been bullied in my life. Like a lot of other students at Brown, I might spend my third year abroad."
The popular actress explains how, despite her stardom and riches, she has never wanted to cause a rumpus by acting the diva, and was always scared when asked to find anger or passion on set:
"My acting tutor said the hardest thing for me was to get angry," she remembers.
"I almost broke down in tears when they tried to get me to be angry. I said, 'I can't do it, I just can't do it.' I keep all of that really bottled up somewhere and I feel unleashing it would be the scariest thing – and to let myself be powerful, sexy, all those things, it's scary for me."
"There has never been room in my life for that - I couldn't imagine giving my family any more trouble, it's already been complicated enough."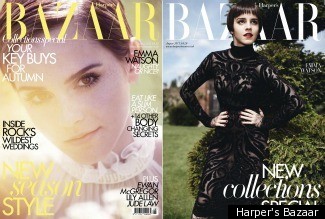 The full interview with Emma Watson appears in the August edition of Harper's Bazaar, on sale from 7th July.