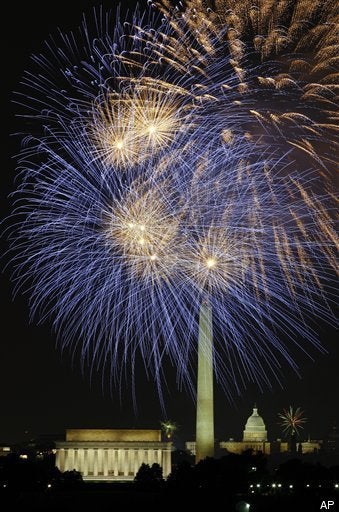 We all know that fireworks are illegal in Chicago. So technically, these videos never happened.
That being said, three of our favorite local blogs found three distinct and amazing videos of homemade July 4th fireworks extravaganzas around the city. Now that most of us have recovered from the long weekend's festivities, we figured we'd take one last look at the explosive, straight-from-Indiana beauty that we set off to celebrate our freedom.
The first clip is via WBEZ: a beautiful shot of dusk on the 4th, just before 9 p.m., taken from a private plane flying over the South Side:
Chicagoist mentions the BEZ video, but then says they can one-up it with this one. "Any jerk can rent a private plane to see the fireworks over Sox Park," the blog writes. "If you really want to see what Chicago is like on the Fourth, you need to fly over the neighborhood where all the Chicago cops (and therefore all of the confiscated fireworks) are."
So, here goes -- a flight from Chicago to St. Louis:
Maybe our favorite, though, is this 30-second time lapse video posted on Gapers Block, which shows some of the explosive action in Humboldt Park and Logan Square. And it's not just because one HuffPost Chicago editor's ordnance might be in there (shh....):
If you've got a home video that puts all these to shame, let us know! We'd be glad to check it out. Honestly, we can't get enough of this stuff. Come to think of it, we bet fireworks are really, really cheap right now...