In a more innocent age, Ronald McDonald was the most benign of media icons: a cheerful clown whose floppy red wig and striped clothes presented an image of family fun.
But in recent years, another view of the spokes-clown has emerged: To detractors, he's a heartless corporate shill bent on promoting morbid obesity to young children at the expense of good health.
Is it possible that Ronald McDonald is just a victim of his own success? Of doing a job so well that he helped McDonald's become the largest restaurant chain in the world, with a profound effect on both American society and meat prices?
Believe it or not, the search for the origin behind a mysterious Ronald McDonald costume by Elyse Luray of the popular PBS series "History Detectives" turned into an investigation on the clown's impact on both pop culture and waistlines.
Recently, Luray got a request from Randy Liebermann, a collector of McDonald's memorabilia man in Reston, Va., who wanted to find out whether a very old Ronald McDonald costume he had purchased several years ago was in fact the first one used in a national commercial.
The costume was found at a sale for unclaimed storage locker items and came complete, including shoes, makeup and a bright red wig. But it's unclear where and when the outfit comes from.
"Maybe it's simply just a Halloween costume," Luray told Liebermann. "The only reason I think maybe not is that the label says Max Weldy and I know for a fact that he was a Parisian costume maker."
The search came at a unique time for the iconic clown. This year marks the 45th anniversary of his national debut. But what should be a happy time for the ad icon who introduced "Happy Meals" is one of controversy.
Whether or not Ronald McDonald is at all responsible for America's obesity epidemic is a matter of debate, but Luray says it's an indisputable fact that the clown has had a big impact on pop culture.
The hamburger harlequin made his national debut during the 1966 Macy's Thanksgiving Day parade, but the character originated three years before that in Washington, D.C., according to hamburger historian Andrew F. Smith.
"McDonald's was originally a local San Bernardino outfit with Maurice McDonald and Richard McDonald," Smith told Luray. "When they expanded to about 10 different outlets, they made a contract with Ray Kroc, who lived in Chicago, to franchise nationally."
By the mid-1960s, the chain was cooking even faster than the burgers, adding about 100 new franchises annually. Although the chain worked on streamlining food preparation, menus and architecture on a national level, the brand didn't yet boast the synergy in marketing and advertising that it's famous for today.
"That standardization was something that was very important to McDonald's," Smith said. "But they didn't have standards on advertising, so each local franchise was responsible for its own advertising."
Around 1963, a McDonald's in Washington, D.C., decided to boost business by sponsoring "Bozo's Circus," a children's show featuring future "Today Show" weatherman Willard Scott.
It was very successful, increasing sales by 30 percent fairly quickly.
As part of the show, Scott created a new character, Ronald McDonald, that looked much different than the famed clown seen today.
This Ronald had a food tray for a hat and a paper cup for his nose, but Smith says corporation executives were able to see the possibilities for something even more iconic.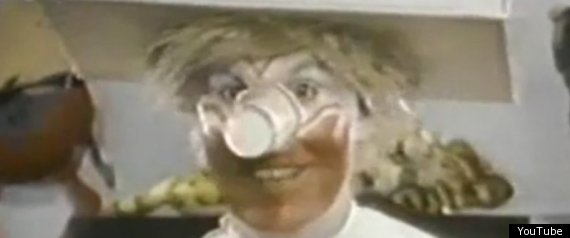 "Television in the 1950s and early 1960s really was a much more powerful media than it is today," he said. "There were very few channels available in most communities, so, if you had a children's program on, you had literally all the kids in a local community watching it."
Kroc recognized the possibilities of catering to families, especially because of something called "pester power," which is when kids keep whining about something until parents give it to them. So he decided to promote McDonald's to kids and families, Smith said.
"The initial target were families in the suburbs," he said. "Ray Kroc would fly over a community, look where the schools were, look where the new churches were being built and that's where he wanted McDonald's franchises."
It was a savvy maneuver since there were few food outlets in those suburbs.
"Ray Kroc thought, 'If I get all those children in here, they'll eat a lot of hamburgers' ... And indeed they did."
The man who gets the honor for creating the Ronald McDonald we know today is Michael Polakovs, a circus performer who performed with Ringling Brothers under the name "Coco the Clown." With the help of costume designer Max Weldy, Polakovs designed the outfit and makeup still in use today. He appeared in the first eight TV commercials featuring Ronald McDonald -- including one that aired during the first Super Bowl in 1967.
Polakovs died in 2009, but his widow, Hazel, said her late husband was always proud of the character.
"Coco was always proud to be a part of this," she said. "Anytime he was promoting Ringling and he got the chance he would promote Ronald McDonald together."
Thanks, in part, to Polakovs, Ronald McDonald's first national campaign was a landmark from a culinary and pop culture standpoint. Not only was it the first national campaign for any fast food operation, it was the first time the industry recognized children as its real target market -- and one it's been catering to ever since.
Though the clown has taken flak for marketing to children, Luray, the mother of two kids, 12 and 9, said Ronald McDonald has very little impact on her kids wanting to go to the restaurant.
"It's all about the toys," she said. "Sometimes, we just go and get the toys and skip the food."
But Smith said that Ronald McDonald is the drop in the water that started an ocean of change.
"It starts off with Ronald McDonald and the clown outfit," he said. "It goes from there into Playlands and then the Happy Meal that comes on in the 1970s and then to tie-ins with movies and toys associated with those tie-ins."
As for the outfit that started Luray on his journey? Turns out that it wasn't the first one on a national ad, but it does have significance for being one of the first costumes that was manufactured in bulk to send out to franchises around the country.
As such, it has historical significance. But while Luray believes Ronald McDonald deserves his pop culture props, she doubts that he will ever have the popular acclaim he once had.
"As a character, Ronald is too simple," she said. "He doesn't have the emotional impact to kids. He's not a superhero. He's just a clown. Plus, the Happy Meal tie-ins are what attracts the kid. He's competing with, say, Green Lantern and he's competing against his own food."
WATCH: