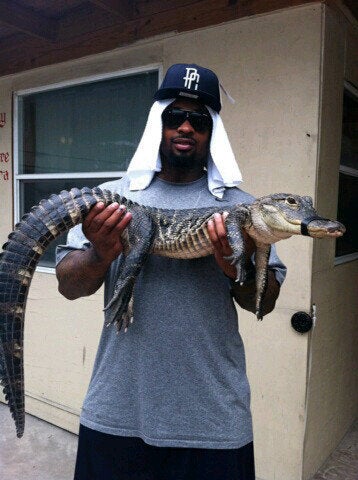 Did you hear the one about the Cardinal who purchases an alligator?
It's actually not a very funny joke, especially if you're a member of PETA.
Arizona Cardinals defensive lineman Darnell Dockett recently attracted the attention of People for the Ethical Treatment of Animals for purchasing an alligator in the Florida Everglades, according to the organization.
But did he? No, according to a witness with whom The Huffington Post spoke.
"Nobody purchases alligators here," said Beverly Mosko, a manager at Everglades Holiday Park in Fort Lauderdale, Fla. The animals in the park are, in fact, rescues, according to the park manager.
The reports of Dockett's alleged purchase began surfacing after he live blogged a trip to the park. On July 3, Dockett tweeted: "I'm out here messing with these gators in everglades!" He followed that tweet with a photo of himself and a baby alligator that was captioned, "I just bought this! His new name is NINO."
On July 7, PETA sent a letter to Dockett informing him that it had been alerted to his baby alligator purchase and was aware that he intended to "keep him as a captive pet."
The letter detailed the prohibitive laws and regulations against keeping an alligator as a pet, described how the animal would become "neurotic and self-destructive ... because of extreme boredom," and warned, "You would be held liable for any damage, injuries, or illnesses caused by the alligator."
The letter added, "We stand ready to help find a suitable habitat for this animal."
There's only one problem: The purchase, according to Holiday Park, never happened. Instead, Dockett had paid to have his photo taken with the gator and had apparently posted it to Twitter as a joke.
"They charge $5 for people to hold it -- to get their picture with the gator," Mosko said. "What they do with [the picture] after that is up to them. It's just a photo."
According to Mosko, the park was not contacted by PETA to confirm the purchase had taken place.
Dockett's agent did not immediately respond to a request for comment from The Huffington Post on Monday. The pro-baller is, however, apparently having some fun with PETA, as is evident by several of his Twitter posts.
On July 8, Dockett tweeted a photo of an alligator with the caption "LOOK at NINO close up @peta does it looks like he wanna leave?!? NOPE! We about to go see transformers!"
That tweet was preceded by: "@peta I can't wait till winter. I'm gonna buy a Big ass BEAR Mink, with RABBIT sleeves and LION POCKETS!! Just Watch! Mess w/the wrong 1!" and "Dear PETA @peta I don't care what yall say! If you or anybody come to take NINO! I will pull a JOHN Q on yalls ass! NOW TRY ME!"
"Mann so this lil girl was duct taped too and drown! Missing for 31 days and the mother didn't report it! OH HELLL NAWWW she guilty as sh*t!"
The Huffington Post spoke with Stephanie Bell, Associate Director of PETA's Cruelty Investigations Department, on Monday afternoon and informed her about the Everglades Holiday Park comments regarding the alligator.
"We are quite relieved to learn that he did not purchase an alligator," Bell said.
"We have concerns about the fact that the photo features an animal whose mouth was shut with electrical tape," she added. "So we will probably want to look into that a little further."
WARNING: EXPLICIT LANGUAGE
PHOTO GALLERY
Darnell Dockett vs. Peta