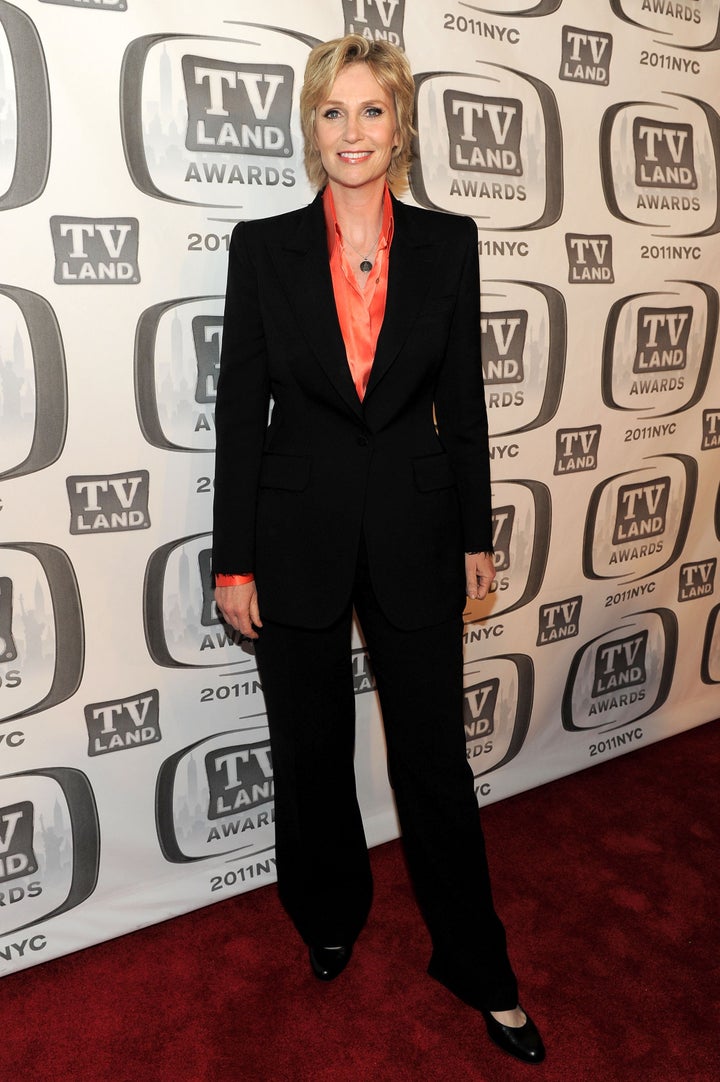 Jane Lynch has been quite a busy woman this year. When she wasn't track-suiting up to play Sue Sylvester on 'Glee,' the 51-year-old actress was busy penning her new book, 'Happy Accidents,' preparing for her Emmy-hosting gig and adjusting to married life with her new wife of one year.
Lynch met wife Lara Embry in 2009 at the National Center for Lesbian Rights gala, and it was love at first sight. The couple was married last June in Massachusetts.
"We've taken on everything in our first year of marriage," Lynch told Vogue in their August issue. "Moving. I gained a daughter. We renovated a house -- and writing a book. I mean, talk about learning about your wife!"
Since then, the pair have been enjoying their new life together, but living the happily-ever-after fairy tale was not something Lynch could always see in her future.
"When I grew up, just like in 'Glee,' you had to be what they considered 'normal' or you got a Slushee in your face," she said. "I didn't want to be too tall. I didn't want to be too loud. I didn't want to be gay."
While Lynch will still be causing mischief as Coach Sylvester on the hit FOX show, not all of her co-stars will be returning after the upcoming third season. 'Glee' creator Ryan Murphy revealed to The Hollywood Reporter that Lea Michele, Cory Monteith and Chris Colfer would not be returning for the fourth season of the show.
Talking to Access Hollywood Live this week, Lynch defended Murphy's decision to have three of the show's main characters graduate, adding that he "rarely makes bad calls."
"I think it's kind of cool that they will graduate," she said. "And I also think it's kind of cool that the teachers get to stay!"