The Mulholland Bridge demolition is completed ahead of schedule, reports the Associated Press. That's why officials have just announced that the 405 freeway will now be opening much earlier than expected -- ABC 7 reports in a tweet that Caltrans and CHP plan to re-open the 405 freeway between 11am and 3pm today.
07/18/2011 12:14 AM EDT
When memes collide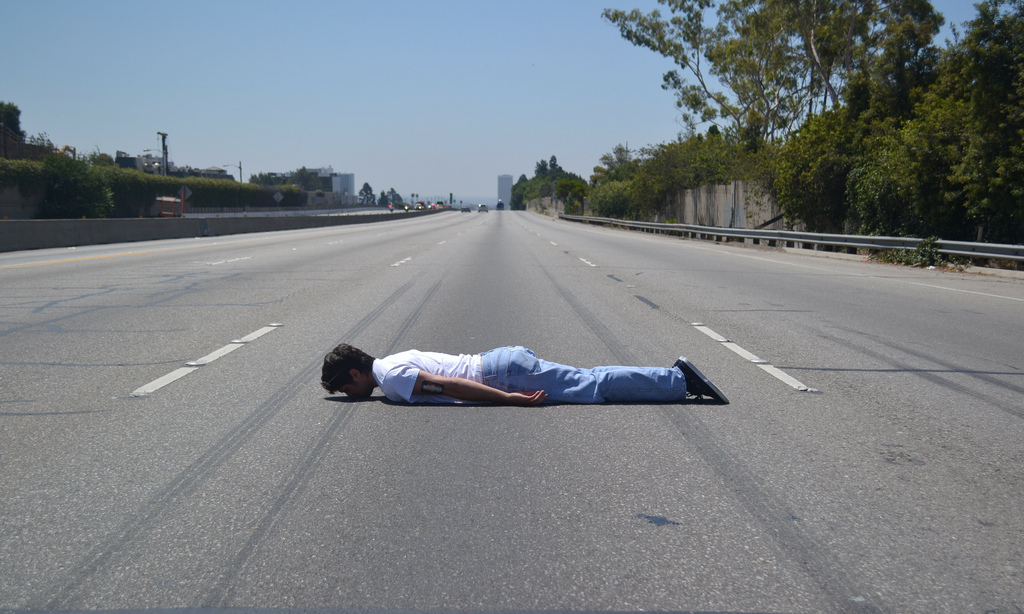 Photo by Donna Estes Antebi, courtesy of Stephen Estes (Flickr).
23 year-old Stephen Alan Estes was one of the first Angelenos to get back onto the 405 freeway when it re-opened this morning. Driving with his mother, Estes popped out of the car, laid down on the highway in the "planking" position, and got this picture on the 405 freeway near the Sunset on-ramp.
His flickr account explains, "I just planked LA's 405 freeway between Sunset and Wilshire during the last minutes of Carmageddon! Police were roaring up the other side of the freeway, and I just slapped a Vitagasm patch on my arm and went for it. Such an opportunity might not come again for years!"
Estes told the LA Times, "I guess I'm going to have to top this one. I guess I'll have to find the next Carmageddon." But Estes is looking beyond next year, when the second half of the bridge is set to be demolished. "It won't be unique then. This is my official debut."
Planking is the act of lying face down in a public place, optimally somewhere that no one has ever "planked" before. And of course, as with all great feats, pics or it didn't happen. Check out this video of planking all over Los Angeles landmarks and help Estes come up with his next location!
07/17/2011 11:56 PM EDT
"A nation of doers"
HuffPost commenter msjimmied praises Angelenos and LA's officials:
Went without a hitch really, people had fun with races against JetBlue, got acquainted with their Metro rail, stayed home and chilled or found a way around it. Employers rearranged schedules, no biggie really. It wasn't carmageddo­n, it was an illustrati­on of people working together around an obstacle and having fun with it. We're not a nation of whiners, we're a nation of doers. Great job Caltrans!
07/17/2011 11:53 PM EDT
Coming to LA's defense
LA is getting some heat about hyping a non-event, but HuffPost commenter cybolt points out:
For those questionin­g all the "Henny Penny" hubbub leading up to the closure… the stuff about the hardships of business owners etc was waaaaay over the top and unnecessar­y. It's a blip.

But the repeated warnings about a potential traffic meltdown were well-warra­nted (and apparently­, quite effective)­. The section of the 405 closed for constructi­on connects to the 101 in the north and the 10 to the south. According to Forbes magazine..­.

1. The 405 is the busiest freeway in the US. 2. The 405/101 is the busiest interchang­e in the US. 3. The 405/10 is the fifth worst interchang­e in the US.

Yes, other cities have infamous stretches of busy/bad bottleneck­s. But inarguably­, the work being done this weekend affected the worst of the worst. And the prospect of having that much traffic diverted elsewhere certainly had the potential to create a nightmaris­h gridlock.
07/17/2011 5:50 PM EDT
405 Closure Contributes To "Harry Potter" Mega Opening Weekend
Via Patch liveblog: The Hollywood Reporter points out that the weekend-long highway closure contributed to the "Harry Potter" film's mega opening weekend.
ArcLight Sherman Oaks raked in $256,000 for "Harry Potter and the Deathly Hallows 2" on Friday and Saturday. From THR: "Business was so good that ArcLight Sherman Oaks was No. 8 on the list of top grossing theaters nationwide."
Overall, the film brought in an estimated $168 million and broke the record for biggest ever opening weekend, reports Forbes.
07/17/2011 5:39 PM EDT
Kinda makes sense...
CBS is reporting that the California Highway Patrol saw a major reduction in traffic accidents over the weekend: "California Highway Patrol handled 70 accidents between 10 p.m. Friday and 2:30 a.m. Sunday, compared to 160 during the same period the previous week."
07/17/2011 4:16 PM EDT
More reactions to the 405 closure/reopening
From the Associated Press:
Many mocked the frenzied language surrounding the closure, especially on Twitter, where Hollywood's comedians had at their hometown.

"How's everyone coping with this terrifying apocalyptic nightmare of having to ... oh my god ... stay home with your family?!!!" Bill Maher wrote.

Albert Brooks took was more philosophical in his Tweet: "If we would close the freeways every weekend we would have a great society."
07/17/2011 3:45 PM EDT
For some, the 405 re-opening is bittersweet.
So did Los Angeles learn anything new from Carmageddon weekend? Mayor Antonio Villaraigosa said during the press conference, "I think that this weekend people have learned that leaving the home, leaving the neighborhood, has caused them to be cheated." He also praised the stories coming out about community members organizing local events, meeting neighbors, and enjoying the city on public transit.
Pacific Palisades resident Michele Baron told Patch that she "would prefer to keep the freeway closed as long as possible because I'm enjoying the quiet."
Michele Cohn from Bel-Air told the LA Times that the closure transformed Los Angeles into a "small town" and said, "Its amazing; I love it. I wish it were like this all the time.... Let's just have this once a month."
@metrolosangeles retweeted:
| | |
| --- | --- |
| | @ ElimProcess : If the #405 closure taught us anything, it was that we do not need cars to get around. We need a better transit system @metrolosangeles |
@Nettey128 cues the sad trombone noise:
| | |
| --- | --- |
| | @ Nettey128 : 405 is reopening today...not tomorrow. Now the real #carmageddon shall happen. |
07/17/2011 3:43 PM EDT
The 405 freeway is re-opened!
Patch liveblog reports that "A parade of motorcycles, cars and trucks representing several of the agencies involved in the 405 closure just drove southbound on the 405 and under the Mulholland bridge."
AP photo by Reed Saxon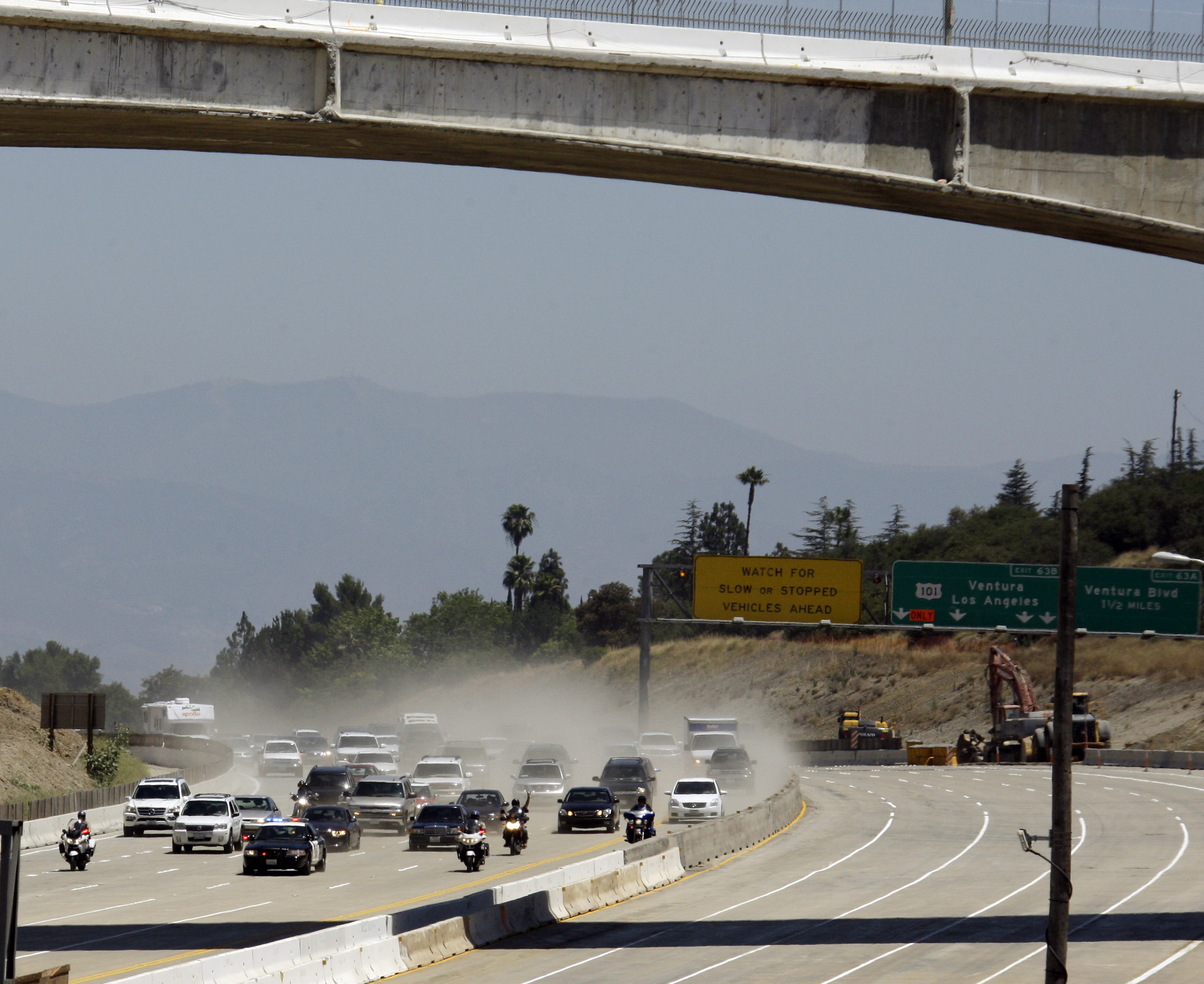 07/17/2011 2:23 PM EDT
Schedule for on-ramp and connector re-openings
Schedule for on-ramp re-openings:
| | |
| --- | --- |
| | @ I_405 : SU-ALL: NB on-ramps will open in this order: Cotner, Santa Monica, Wilshire, Sunset, Moraga, Getty Center. #405Official |
| | |
| --- | --- |
| | @ I_405 : SU-ALL: SB ramps will open in this order: Ventura, Valley Vista, Skirball. Will occur at same time as northbound openings. #405Official |
| | |
| --- | --- |
| | @ I_405 : SU-ALL: NB Skirball on and off-ramps will remain closed until 3:00pm. #405Official |
And last but not least:
| | |
| --- | --- |
| | @ I_405 : SU-ALL: Connector ramps from 10 and 101 will open last. #405Official |
07/17/2011 2:15 PM EDT
Kiewit to receive $300,000 for completing early.
Because the closure is ending early, Los Angeles is saving $400,000 on construction costs. Kiewit is receiving $300,000 as a financial incentive.
A project manager at the presser also said that Kiewit is the very same company that built the Mulholland Bridge in the 1960s. Cool!