Rupert Murdoch, the Chairman and CEO of News Corporation, was the target of "a white foam pie" attack on Tuesday as he was testifying before a British Parliament committee about the News of the World phone hacking scandal.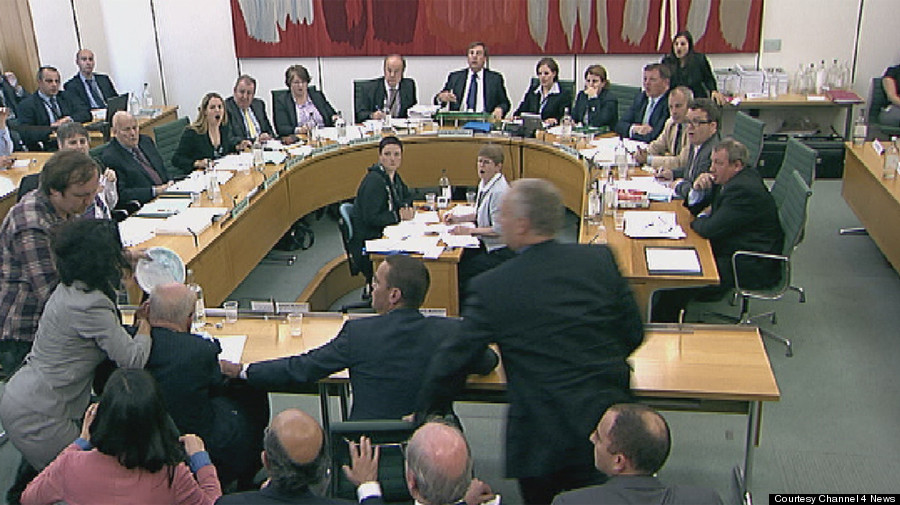 Photo courtesy of Channel 4 News.
In the video, which can be seen below, Murdoch's wife, Wendi Deng, leaps to her feet as the attacker lunges toward Murdoch. The Guardian reports that Deng "seemed to slap the person."
The alleged pie-thrower, who goes by "Jonnie Marbles," tweeted just minutes before the attack:
According to Daniel R. Hamilton, the Director of Big Brother Watch, Marble's real name is Jonathan May-Bowles. In his Twitter profile, Marbles calls himself an "activist, comedian, father figure and all-round nonsense."
The Los Angeles Times reports that Murdoch's glasses came off in the attack. The hearing was suspended for ten minutes and Murdoch returned wearing shirtsleeves, "apparently unharmed," according to Channel 4 News.
This picture, via ABC News, shows Deng with her arm raised, ready to slap the alleged attacker.