Microsoft is being criticized for sending a tweet that many saw as an attempt to cash in on Amy Winehouse's death this past weekend.
Three days after the singer was found dead in her London home, the official Xbox360 Twitter account (@tweetbox360) posted a message on Twitter people to pay tribute to the late singer, by purchasing her album in Microsoft's online Zune music store.
The tweet read, "remember Amy Winehouse by downloading the ground-breaking 'Back to Black' over at Zune".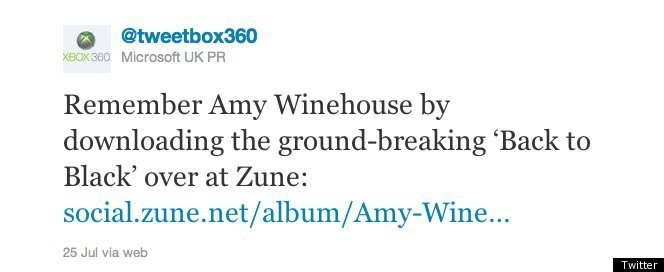 Winehouse fans responded to the sales pitch with outrage.
"It's very insensitive and whoever had the idea of tweeting it had no taste," said Jovic Y. (@iamjovic).
"Typical M$ trying to cash in on the death of someone," remarked another Twitter user (@GreenMistt).
@Thisisthebang criticized Microsoft for "failing at social media," while @DavidTraynier used the hashtag "#vultures" to describe Microsoft's post.
The same day, Microsoft's UK public relations team apologized for the mis-intentioned tweet: "Apologies to everyone if our earlier Amy Winehouse 'download' tweet seemed purely commercially motivated. Far from the case, we assure you," they wrote.
The company went on to say, "with Amy W's passing, the world has lost a huge talent. Our thoughts are with Amy's family and friends at this very sad time".
Meanwhile, Winehouse's breakout album Back to Black topped the iTunes sales chart on Monday, after Apple prominently displayed a picture of the late singer on the front page of its popular online music store.
Microsoft, and Apple for that matter, clearly realized the sales opportunity surrounding Winehouse's death. Nonetheless, a life was lost and the singer's memory should be respected. Should Microsoft's public relations blunder be added to the list of 'Worst Twitter PR Fails' of all-time? Weigh in below.