With all four seasons of "Mad Men" now available to stream instantly on Netflix, we've compiled our favorite episodes from the past four years. Kiernan Shipka, who plays Sally Draper -- and is the show's youngest legitimate star-- kindly added her pick to the mix. Her role on "Mad Men" has deepened throughout the seasons, as she grappled with her parent's separation, her grandfather's death and having her one friend taken away from her. Shipka has portrayed the troubled Sally with unexpected depth, as equally convincing throwing a tantrum as she is swallowing her pride. This all comes to the fore no more than in episode nine of season four, "The Beautiful Girls," which is Shipka's Netflix Instant pick:
I recommend the episode "The Beautiful Girls." (This was my first chance to work with Elisabeth Moss and Cara Buono. It was awesome.) Despite the emotional depth of the episode, there was such great comedy written throughout. There were some pretty funny exchanges between Fay and Sally, and Peggy and Sally. Who could forget RUM FRENCH TOAST! And Ms. Blankenship's death will go down as one of the best death scenes EVER -- shocking, tragic and funny.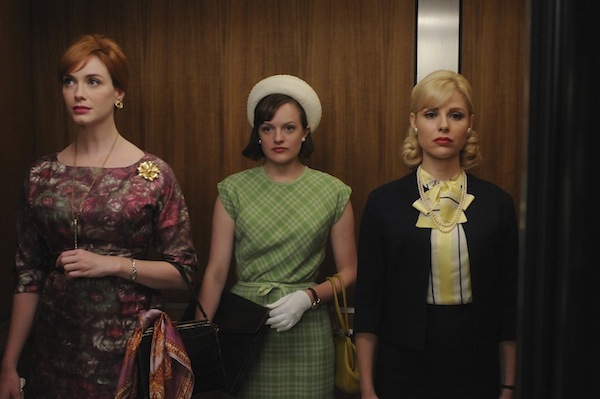 Christina Hendricks, Elisabeth Moss and Cara Buono in an elevator scene from "The Beautiful Girls.