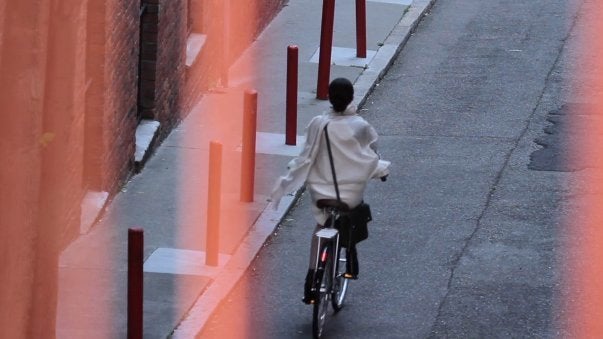 To debut his new collection, designer Phillip Lim released a short film starring a bright new muse: San Francisco (via bike).
"Girls on Bikes" features three models dressed in Lim's new collection, cruising through the streets of the city on slick Linus bikes. San Franciscans will notice whimsical cameos from Civic Center, Chinatown, the Financial District and the Stockton Street Tunnel. Everyone else will notice Lim's impeccable collection of dresses, tuxedos, and fluttering coats. (Albeit no helmet, tsk tsk.)
"It's about these chic girls on bikes, riding to work, to an art gallery, a party," Lim told stylebistro. "Where she goes is a mystery because you only see her for that instant, but the thought of her lingers in your mind."
Lim couldn't have chosen a better backdrop than our cycle-friendly city, and this film looks like the daydream of every woman in the financial district: the perfectly cool, feminine urbanite on a sartorial SF adventure. And while this may be an idealized version of our usual commuter, we can't help but get excited about the sentiment. Lim's girls don't take taxis or towncars or even the subway; they bike. Like Patti Smith or Debbie Harris before them, these girls find the glam in the gritty, idolizing the everyday.
Of course, one doesn't need to wear Phillip Lim to look fabulous, but because we're San Franciscans -- we love anything that makes biking even cooler. And those stacked heels certainly don't hurt.
Check out Lim's new video, "Girls on Bikes," below: