Family vacations in Idaho can be rewarding experiences or absolute disasters -- it all depends on pre-trip homework. To make planning easier, we've done all the preparation. As part of a Huffington Post Travel series on traveling with children, here are recommended attractions for those planning Idaho family vacations.
100 Acre Wood Lodge
100 Acre Wood Lodge
is a beautiful, serene adventure where visitors can commune with nature and wildlife on half- and full-day tours. Guided by professional outfitters in their natural habitat, visitors can choose from a variety of eco-tours. They can pan for gold; explore the path of Lewis and Clark; float down the Salmon River; watch bears; or relax with a day of fly-fishing. The four-hour, half-day tour includes a snack and drink; the seven-hour tour includes a full lunch.
Address: 2356 Highway 93 N., North Fork, ID 83466
Phone: 208-865-2165
Hours: Hours and dates vary, depending on weather conditions
Price: Half-day, $90; full-day, $135
Orma J. Smith Museum of Natural History
The only natural history museum in southwestern Idaho, northern Nevada and southeastern Oregon, the
Orma J. Smith Museum of Natural History
serves as an educational hub for visitors. Research and identification of various species and archeological discoveries are on display. Various species of entomology indigenous to the area, such as beetles, butterflies and moths, are available for visitors to learn about through up-close interactive displays. Archeological and fossil discoveries of the area are on permanent display. 
Address: 2112 Cleveland Blvd., Caldwell, ID 83605
Phone: 208-459-5011
Hours: 8:30 a.m. to 3 p.m. Monday through Thursday year-round. Closed Friday through Sunday and all major holidays
Price: Adults $6; children four to 12, $4; children under four, free
Idaho State Historical Museum
The
Idaho State Historical Museum
is the largest and most visited museum in Idaho. Visitors are able to view the rich and diverse history of Idaho through hundreds of items on display from various periods, from prehistoric to present day. Visitors can learn about the gold rush and fur trade era that brought prosperity and cultural diversity to the area, or the original pioneer settlers who helped pave the way for modern-day Idaho residents.
Address: 610 N. Julia Davis Drive, Boise, ID 83702-7695
Phone: 208-334-2120
Hours: Hours and days vary throughout the year. Closed Thanksgiving, Christmas, New Year's Day
Price: Adults, $5; seniors 65+, $4; children six to 12, $3; students with ID, $3; children under six, free
Discovery Center of Idaho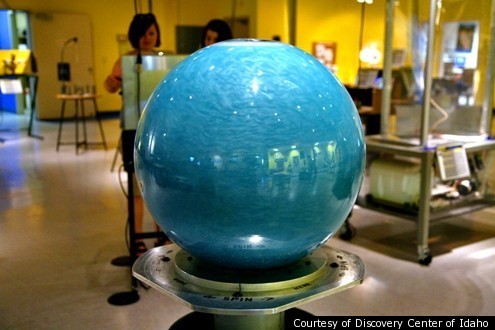 The Discovery Center is a hands-on experience where imagination through interactive play is encouraged. Visitors can participate in the exhibits, learning as they go. Exhibits range from the science behind an air break to the inner workings of a tornado -- all geared to the discovery of science. Visitors can role-play in the discovery market, exploring the inner workings of a miniaturized grocery store, or learn what stress can do to your bones.
Address: 131 W. Myrtle St., Boise, ID 83702
Phone: 208-343-9895
Hours: Summer 9 a.m. to 5 p.m. Monday through Thursday; 9 a.m. to 7 p.m. Friday; 10 a.m. to 5 p.m. Saturday; noon to 5 p.m. Sunday. Winter 9 a.m. to 5 p.m. Tuesday through Thursday; 9 a.m. to 7 p.m. Friday; 10 a.m. to 5 p.m. Saturday; noon to 5 p.m. Sunday. Closed Monday
Price: Adults, $6.50; children, three to 17, $4; seniors 60+, $5.50; children under two, free
Ernest Hemingway Festival
The annual
Ernest Hemingway Festival
pays homage to the prolific author and his resting place. The three-day event features speakers, nature walks, a theatre performance, and other Hemingway-based events. Refreshments are served throughout the festival, and families are encouraged to become part of the Hemingway history through interactive literature-based events, including writers' workshops and film screenings. Festival-goers have the opportunity to explore the area's locations where it is rumored that Hemingway still haunts. The entire event is centered around the influence Hemingway had on the area and contemporary literature.
Address: 415 Spruce Ave., Ketchum, ID 83340
Phone: 208-726-3493
Hours: Hemingway symposium, plays, movies and other events, October 20 through 22; hours and events vary
Price: Free
Silver Beach Resort
Silver Beach
is one of the premiere, non-crowded beaches in Idaho. It offers swimming, paddling, kayaking, fishing, and boating for all its visitors. The calm waters of Silver Lake, along with the scenic backdrop, will make an afternoon picnic stress- and worry-free. The tributary, Spokane River, is located off the lake, giving adrenaline junkies a chance to test their whitewater skills. There are only a few picnic areas on Silver Lake; however, the seclusion and serenity is one of the attractions to the area. A hiking trail branches off from the lake into Caribou Ridge National Recreational trail for visitors to explore the beauty of the area. 
Address: Old West Village, Spirit Lake, ID 83869
Phone: 208-623-4500
Hours: Open 24 hours, year-around
Price: Free
Stanley Mountain Trail
Stanley Mountain Trail, located in the Arapaho National Forest, is a 6.5-mile hiking trail that offers visitors the chance to view various species in their natural habitats. Following the Continental Divide Trail, the path is dog- and kid-friendly. Crossing the Berhoud Pass above its timberline, the terrain explores the intrinsic designs of Mother Nature. In the spring, various species of birds can be viewed, along with other species that are coming out of hibernation. The pristine trails will take you past cascading streams and viewpoints.
Address: U.S. 40 Idaho Springs, CO 80452
Phone: 970-262-3440
Hours: Open 24 hours year-round
Price: Free
Have you been to Indiana? What's your favorite attraction?
Check out more FAMILY TRAVEL GUIDES.