Gazing at the Blueberry cocktail at The Aviary in Chicago's West Loop is like staring out of a submarine into a mesmerizing reef of fruit and flora. Served in a circular, custom-designed glass appropriately named the "porthole," Blueberry gives off a light amber hue at first pour and turns a rich shade of rose after steeping for 15 minutes in fruits and herbs like thyme flowers, hibiscus, freeze-dried pomegranate and of course, blueberries. Craig Schoettler, drink creator and executive chef at The Aviary (opened this year by Grant Achatz and Nick Kokonas of Alinea fame), said the colorful concoction makes for a great summer cocktail because of the seasonality and freshness of the ingredients. "It evolves as you drink, so that your first sip is different from your last sip," Schoettler said. "Every time you pour, it's a different cocktail."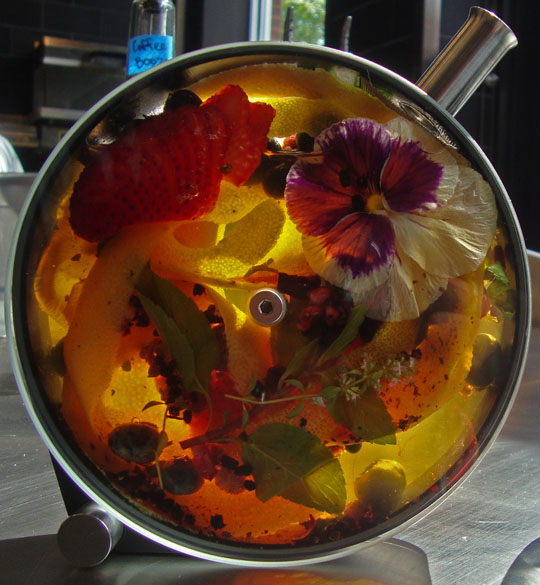 Ingredients: Dried hibiscus, freeze-dried pomegranate, thyme flowers, grapefruit zest, lemon zest, fresh strawberries, fresh blueberries, Bulleit Rye whiskey, Carpano Antica vermouth, Angostura orange bitters and white verjus
Cost: $20 each
The Aviary, 955 West Fulton Market in Chicago, 312-226-0868; Same-day reservations available on The Aviary's Facebook page.