Family vacations in Atlanta can be rewarding experiences or absolute disasters -- it all depends on pretrip homework. To make planning easier, we've done all the preparation. As part of a Huffington Post Travel series on traveling with children, here are recommended attractions for those planning Atlanta family vacations.
Tybee Island
Tybee Island is
a popular beach destination
for Atlantans. Weekend trips are recommended as it is a five-hour drive from the city. Just over the bridge from beautiful, historic Savannah, Tybee Island is the perfect place to relax and enjoy family time. You can visit Fort Screven, the Tybee Island Lighthouse, and Fort Pulaski National Monument.
Address: Tybee Island Light Station, PO Box 366 Tybee Island, GA 31328
Phone: N/A
Hours: Venues and attractions may have set hours
Price: Expect to spend $500 to $1000 for a weekend trip for a family of four
Oakland Cemetary
Take a self-guided tour of this historic park and cemetery, the final resting place for Civil War soldiers, golf legend Bobby Jones and "Gone With the Wind" author Margaret Mitchell. There are also guided tours, but most
visitors prefer exploring the cemetery
on their own.
Address: 248 Oakland Ave SE Atlanta, GA 30312
Phone: 404-688-2107
Hours: Open year round, 8 a.m. to 8 p.m. Gates are locked at night. Walking tours are available on the weekends
Price: Free admission
Six Flags Over Georgia
Six Flags over Georgia
is just west of Atlanta and full of thrilling rollercoaster rides. It boasts a water park, stage shows and other amusements, as well as relaxation for the entire family. Get a two-day pass to enjoy the entire park and add that thrill factor to your family vacation in Atlanta.
Address: 7561 Six Flags Parkway Austell, GA 30168
Phone: 770-948-9290
Hours: March through May, weekends only 10 a.m. to 9 p.m.; June through early August, daily 10:30 a.m. to 9 p.m.; August through October, Saturday, 10 a.m. to 10 p.m., Sunday, noon to 9 p.m.
Price: Tickets are $35 online for children and adults, and $49 for both parks
Georgia Aquarium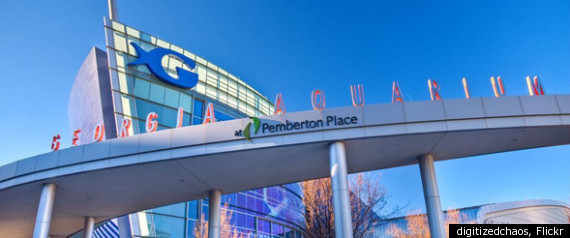 The Georgia Aquarium is the largest aquarium in the world with over eight million gallons of water and more animals than any other aquarium. Bring your camera to catch your child's expression as they view the sharks and pet the stingrays. You will enjoy the aquarium best on weekday mornings as the aquarium draws big crowds and school groups.
Address: 225 Baker St Atlanta, GA 30313
Phone: 404-581-4000
Hours: Sunday through Friday, 10 a.m. to 5 p.m.; Saturday, 9 a.m. to 6 p.m. Summer hours (May 31 through Aug. 13), Sunday through Thursday, 9 a.m. to 6 p.m.; Friday, 9 a.m. to 10 p.m.; Saturday, 9 a.m. to 9 p.m.
Price: Tickets range from $21 to $40. Some attractions cost extra
Fernbank Museum Of Natural History
The Fernbank Museum will take you on a journey to another time and place. They have some of the largest dinosaurs ever discovered, an IMAX® Theatre and a great line-up of
special exhibitions
to make each visit unique.
Address: 767 Clifton Rd NE Atlanta, GA 30307
Phone: 404-929-6300
Hours: Open Monday through Saturday, 10 a.m. to 5 p.m.; Sunday, noon to 5 p.m. The museum is closed on Thanksgiving and Christmas Day
Price: Prices range from $10 to $30 for exhibits and IMAX passes
Tanger Factory Outlet
Shop at factory outlets for major brand names like Coach, Levi's, Polo Ralph Lauren, Zales and much more at the
Tanger Outlet Centers
. This may not be an attraction for the whole family, but shoppers will certainly be happy to be left alone for a couple of hours with a few hundred dollars.
Address: 1000 Tanger Drive Locust Grove GA 30248
Phone: 770-957-5310
Hours: Jan. 1 through Nov. 24, Monday through Saturday 9 a.m. to 9 p.m.; Sunday, 11 a.m. to 7 p.m. Nov. 25 to Dec. 23, Monday through Thursday 9 a.m. to 9 p.m.; Friday and Saturday, 9 a.m. to 10 p.m.; Sunday, 11 a.m. to 7 p.m. Dec. 26 through Dec. 30, Monday through Friday, 9 a.m. to 9 p.m.
Price: Spend as much or as little as you want
World Of Coca Cola
This is an intriguing museum for all things Coca Cola. You can explore the history of the company and taste over 60 different Coca Cola products from all over the world.
Address: 121 Baker St. NW Atlanta, GA 30313-1807
Phone: 404-676-5151
Hours: Generally open from 9 or 10 a.m. to 6:30 or 7:30 p.m. Closed on Thanksgiving and Christmas. See site for full details.
Price: Tickets range from $12 to $16
What are your favorite vacation spots in Atlanta?
Check out more FAMILY TRAVEL GUIDES.