Family vacations in Colorado Springs can be rewarding experiences or absolute disasters -- it all depends on pre-trip homework. To make planning easier, we've done all the preparation. As part of a Huffington Post Travel series on traveling with children, here are recommended attractions for those planning Colorado Springs family vacations.
Pikes Peak Cog Railway
If you would rather leave the driving to someone else in your quest to reach the 14,110-foot summit of Pikes Peak, you can take the
Cog Railway
. No driving distractions--just great views, picture taking opportunities and wildlife spotting. The railway cars are quite large and hold over 200 pasengers each. The excursion is nine miles straight up and is very windy. The summit offers souvenir shopping and food service and the trip allows 40 minutes for exploration. The panoramic view includes the town of Colorado Springs and the surrounding areas.
Address: 515 Ruxton Ave., Manitou Springs, CO 80829
Phone: 800-745-3773
Hours: Open seven days from mid-April through mid-November. The round trip takes three hours. Call for available times.
Price: Adults, $31 to $33; kids, $17 to $18. Reservations required via phone or online.
The Pikes Peak Highway
Fasten your seat belts, get your camera ready and check your heart rate for this 19-mile trip up the
Pikes Peak Highway
. The summit is 14,110 feet high, the air is thin and the views panoramic. The initial leg of the journey (about 10 miles) is a breeze because it's a paved highway. The second leg of the journey is strictly gravel and requires nerves of steel--for some. Make sure you can withstand the conditions at such a high altitude. A gift shop and snacks are available at the
summit
.
Address: 5069 Pikes Peak Highway, Cascade, CO 80809
Phone: 800-318-9505
Hours: Open all year, but frequent closings due to inclement weather. Call ahead. Summer hours, 7:30 a.m. to 6 p.m. Tuesday after Labor Day to Sept. 30, 7:30 a.m. to 5 p.m. Rest of the year, 9 a.m to 3 p.m.
Price: $40 per car or adults, $12 and children $5. Winter rates slightly less.
Old Colorado City Historical Museum
The
Old Colorado City Historical Museum
is for history buffs who want to know about the culture and spirit of the western town of Old Colorado City from 1859 to 1917. This is a kid-friendly volunteer-run museum that showcases the people who lived and worked in the area before it became the metropolis that is now known as "The Springs." The museum has a gift store which carries historical books and souvenirs of the area.
Address: 1 S. 24th St., Colorado Springs, CO 80904
Phone: 719-636-1225
Hours: Open all year Tuesday through Saturday, 11 a.m. to 4 p.m.
Price: Free

Cave Of The Winds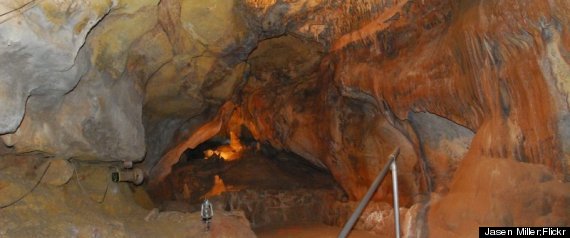 If you have never gone spelunking (caving), Cave of the Winds has opportunities for family vacationers who want to try something new and different as well as a more advanced cave exploration experience that is more difficult. The Discovery Tour is a great subterranean tour for families with young children and the Lantern Tour provides a cave experience not unlike that of early spelunkers using lanterns and candles. The Lantern Tour takes you through low chambers where stooping is necessary and mud is a given.
Address: 100 Cave of the Winds Road, Manitou Springs, CO 80829
Phone: 719-685-5444
Hours: Open year-round. Summer, 9 a.m. to 9 p.m.; winter, 10 a.m. to 5 p.m.
Price: Discovery Tour, adults, $18; children 6 to 11, $9; children 5 and under, free. Lantern Tour, adults, $22; children 6 to 11, $12; children under 5 not permitted.
Lorig's Western Wear
If you are traveling to Colorado Springs and feel the need to dress for the west, a stop at
Lorig's
is in order. It has been around since 1932, when it sold dry goods to the local mining camps and Indian trading posts in southern Colorado and northern New Mexico. It eventually started catering to tourists and visitors to dude ranches. The store carries Stetson hats, Tony Lama boots and a huge variety of quality western-brand clothing.
Address: 15 N. Union Blvd., Colorado Springs, CO 80909
Phone: 719-633-4695
Hours: Monday through Friday, 9 a.m. to 5:45 p.m. Saturday, 9 a.m. to 5 p.m.
Price: NA

Santa's Workshop
Santa and his elves are busy at the North Pole at the base of Pikes Peak. The small amusement park has about two dozen rides, an aerial tram, a unique Christmas tree ride, a space shuttle ride and a miniature train. Santa's Workshop is a perfect Colorado adventure for the younger set in a setting worthy of North Pole status.
Address: 5050 Pikes Peak Highway, Cascade, CO 80809
Phone: 719-684-9432
Hours: May 27 through August 23, daily 10 a.m. to 5 p.m.; August 24 through December 24, varies; call for weekly schedules.
Price: Ages 2 to 59, $17.95; over 60 or under 2, free; military family rate, $12.95 per person.
Garden of the Gods
The family-friendly Garden of the Gods geological park and nature center draws locals and vacationers every year to view the unusual sandstone sculptures that have taken millions of years to form naturally. Added pluses of the park include the wildlife spotting, hiking trails, bike trails, a cafe, a visitor center and a historical movie of the park itself. The pace can be your own or you can take a bus tour, available in the summer.
Address: 1805 N. 30th St., Colorado Springs, CO 80904
Phone: 719-634-6666
Hours: Open daily all year. May through October, 5 a.m. to 11 p.m.; November through April, 5 a.m. to 9 p.m. Visitor Center: Summer, 8 a.m. to 8 p.m.; Labor Day to Memorial Day, 9 a.m. to 5 p.m.
Price: Free
Have you been to Colorado Springs? What are your favorite attractions?
Check out more FAMILY TRAVEL GUIDES.