Google has released a new feature for Gmail that will change the way you read your email forever -- provided you are not already reading your email on an iPad.
In an August 4th post on the Gmail blog, associate product manager Maciek Nowakowski announced the Preview Pane for Gmail, a new optional inbox view that mimics the "split inbox" view Gmail uses on tablets. The Preview Pane can be turned on in Gmail Labs, and it looks like this: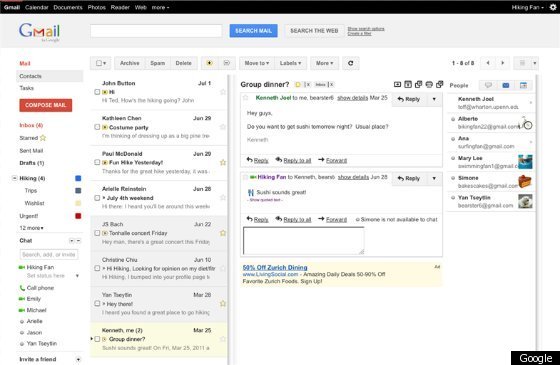 (Click here for a larger view)
Similar to the Gmail for Tablet view (released in April 2010), no?
The new lab can also be toggled to split the panes to horizontal view, perhaps familiar to those of you using Mozilla Thunderbird:

Gmail's inbox has been going through some major changes lately. First, it expanded on the option to sort by message importance, making permanent its 'Priority Inbox' feature and adding several new inbox sorters as well. Google also announced that it was redesigning the Gmail interface to make it more beautiful (I don't have that lab turned on yet, as you can see by my ugly inbox above). Then there was one of the biggest changes of them all: the addition of Google's Google+ social network to Gmail users' inoxes.
The new Preview Pane, combined with the aesthetic overhaul, makes the future Gmail almost unrecognizable from the current one, and appears to continue the "iOSification "of the personal computer.
To turn on Gmail's Preview Pane, click here, search for "Preview Pane," click "Enable," and then save. At the top right corner of your inbox, there will now be a new button with three horizontal lines; click on that to switch between no split, vertical split, and horizontal split.
After that -- voila! You're testing out the new Gmail preview pane.