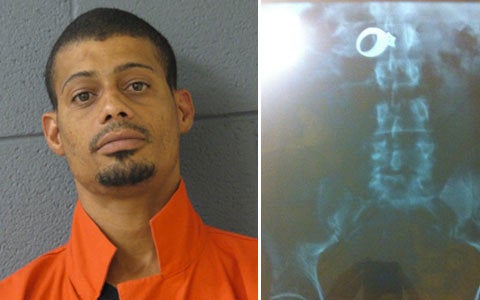 A man who had been performing remodeling work on a Cicero couple's home was charged with felony theft Tuesday after the homeowners accused him of swallowing a diamond ring in an attempt to steal it from their property, located on the 1600 block of Central Avenue.
NBC Chicago reports that 30-year-old Chicagoan Wilfredo Gonzalez faces up to three years in prison if he is found guilty of the swipe-and-swallow crime. According to prosecutors, Gonzalez had asked to use the home's bathroom, after which a homeowner noticed that her diamond ring was missing. When her husband confronted the repairman, he allegedly denied taking it before removing the ring from its previous hiding spot and swallowing it.
The police were then called, according to the Chicago Tribune, and took the accused thief to an Oak Park hospital where an X-ray of Gonzalez's stomach revealed he had, indeed, ingested the ring.
According to Cicero spokesman Ray Hanania, the ring has been valued at $1,600. Gonzalez was originally arrested about 10 p.m. Friday, before he was taken to the hospital and locked up Saturday morning. The ring was not recovered until around 4 a.m. Monday.
Gonzalez is now being held on $10,000 bail, awaiting a hearing later this month.