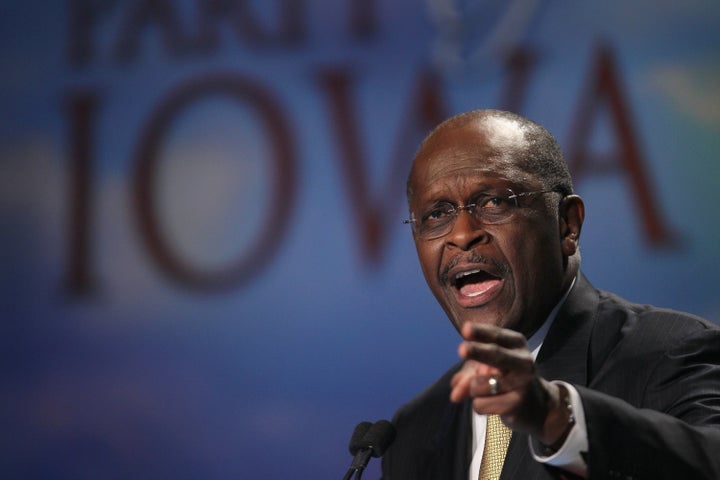 WASHINGTON -- Republican presidential candidate Herman Cain says he got a lot for his money in Iowa's straw poll.
Cain says his campaign for the Republican nomination spent nothing on ads for TV and radio and had just four buses to bring people to the Iowa State Fair to participate in the Saturday vote.
The Georgia businessman ended up with 1,456 votes, or 9 percent of the votes. That was good enough for fifth place among 10 contenders. Minnesota congresswoman Michele Bachmann won the poll with 29 percent.
Cain tells CNN's "State of the Union" that his showing is encouraging and that his campaign's momentum is growing. He says he still believes he can win the nomination as well as the presidency.
After the results of the straw poll were announced, Cain issued a call for campaign cash to supporters in an email.
"While the main-stream-media will create a story that depicts today's winner as the clear front-runner for the GOP nomination, that is not necessarily the truth," he said. "History has shown that this contest is not indicative of the outcome of the actual caucus votes that truly matter in early 2012. For example, George H.W. Bush won the straw poll in 1979, yet America went on to elect one of our greatest Presidents...Ronald Reagan."
Cain added, "I have said from the beginning that I would not buy a straw poll victory. We worked hard. We organized. We turned our supporters out to the Straw Poll. While I did not place 1st, 2nd, or 3rd, I am happy with our strong placing. I spent less money, had less name ID than the front runners, but our strong showing is evidence of the deep support for a non-politician problem solver who has the courage and conviction to change the way things work in Washington. I beat better known, better funded politicians...including those who have held titles like Governor and Speaker of the House."