At a time when the shambling economy dominates the national political debate, a tiny Midwestern state little harmed by the Great Recession gets to decide who will lead the discussion.
Just 6 percent of Iowa's workforce is unemployed, compared with 9.1 percent for the rest of the country, but Iowa voters will play a huge role in deciding which Republican will go up against President Obama in 2012 -- and also who will win that November.
"Iowa has this double status as first in the nomination process and one of the few swing states as well," said Rob Richie, director of FairVote, a nonprofit that advocates for a more equitable nomination process.
Republican campaign buses are crisscrossing Iowa. A straw poll in Ames on Saturday has already caused former Minnesota governor Tim Pawlenty to withdraw his presidential bid. The winner of the Iowa caucus at the beginning of next year -- the first official step toward the GOP nomination -- can pick up momentum that will affect the decisions of primary voters in other states.
"Early states have up to five times the influence of late states, and candidates respond to these differences by funneling campaign expenditures into early states," economists Brian Knight of Brown University and Nathan Schiff from the University of British Columbia wrote in an October 2010 paper.
The Huffington Post asked Iowa Republican Party Chairman Matt Strawn if it's appropriate for a thriving state to wield such disproportionate influence in a struggling country. He said Iowans are attuned to the nation's problems.
"There's no question in talking to Iowans around the state there's tremendous anxiety regarding the economy," Strawn said. "I think it does speak to the president's failed leadership that at a time where commodity prices with corn and soybeans are strong, farmland values are high, the fact that we still have even 60 percent of independent voters in the state disapprove of his handling of the economy, shows you that Iowans care more about just their parochial interest. They care about what is happening to the country."
Reince Priebus, chairman of the Republican National Committee, echoed Strawn during a conference call with reporters on Monday. "What you're seeing across America, and it's in Iowa and places like Minnesota and Wisconsin, is that people in this country are hurting everywhere, and like Matt said, the problem is national at this point. If we don't get our debt and deficits under control, these are issues of national security at this point, and this president is making everything worse."
In other words, if Republican primary voters see federal debt and the budget deficits that fuel it as the main economic problem, the local unemployment rate doesn't even matter. That assumes, however, that the national debt is somehow responsible for the economic malaise. Mainstream economists can't find much evidence that the debt is hurting the economy as interest rates are at historic lows.
An RNC spokeswoman noted that while the Hawkeye state's unemployment rate is low, it's still higher than it used to be. Indeed, economists at the Iowa Policy Project, a group affiliated with the liberal D.C. think tank Economic Policy Institute, pointed out that Iowa's unemployment rate has tracked the ups and downs of the national rate, just at a much lower level.
"Iowa is a microcosm for the rest of the nation," the RNC spokeswoman said in an email to HuffPost. But Iowa's economy is in better shape partially because the state avoided the collapse in home values that triggered the recession in December 2007.
"The most important reason why Iowa is doing better is in fact during the boom years, Iowa didn't bubble up as high as some of the growth centers like Las Vegas, Orlando, Phoenix," said Dave Swenson, staff research economist at Iowa State University.
Housing price data from the Federal Housing Finance Agency show that Iowa housing values didn't soar to the peaks they reached nationally in the mid-2000s.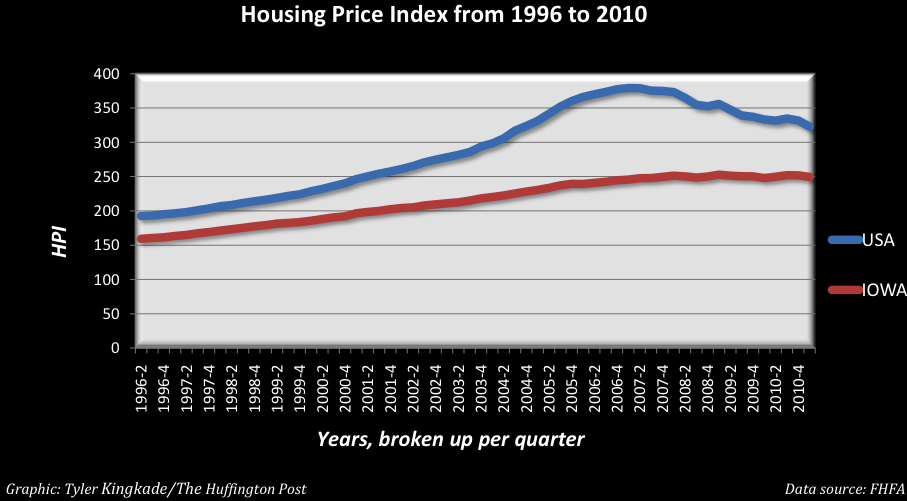 Data from the Census Bureau show that the state's population grew at half the rate of the rest of the country during the 2000s, and at a small fraction of the rate seen in housing bust states like Florida and Arizona.
"There simply was no population pressure pushing for extraordinary housing development and speculation, and by extension concomitant and excessive commercial development," Swenson said in an email. "We also did not have a large and vulnerable urban population, mostly minorities, that was victimized by the sub-prime housing frauds that accentuated the housing bubble. Oh, and last, we really have a better mix of lenders. There're some creeps out there for sure, but on average, much fewer than in places like Baltimore or some other places that preyed upon minorities and other housing-vulnerable populations."
Swenson noted that the state did see some excessive housing development, just not nearly as much as in other places. He added that Iowa came into the recession later because of robust manufacturing activity and strong green markets through 2008.
Iowa also stands out for its agribusiness subsidies from the federal government -- more than 80 percent of Iowa's farms received subsidies, according to the Environmental Working Group, a green advocacy nonprofit. Iowa has received $22.3 billion in subsidies from 1995 to 2010, putting the state only behind North Dakota in terms of federal farm help. But 10 percent of Iowa farmers receive nearly two thirds of subsidies, according to EWG, and experts are skeptical that that cash is doing much for the state's economy.
"About 5 or 6 percent of total personal income is attributed to agricultural activities in recent years, and the ups and downs in agricultural profits over time are realized mostly among a very small subset of farmers," Swenson said, noting than according to government data from 2007, 20 percent of Iowa's farmers accounted for 87 percent of gross sales.
The insurance industry is another boon to Iowa's economy. Iowa's new governor, Republican Terry Branstad, signed a bill during his previous tenure in the 1980s that eliminated the state premium tax on annuities, making Iowa more attractive for insurance companies. Branstad's successor, current U.S. Secretary of Agriculture Tom Vilsack, cut taxes on insurance premiums in half in the '90s.
A report by Swenson and fellow ISU economist Liesl Eathington from 2007 (PDF) showed that starting in 1993, Iowa saw a rapid and continued growth of employment related to the insurance industry, outpacing both growth within the industry nationwide and Iowa's relatively strong manufacturing industry. The report also predicted growth in the insurance industry would outstrip other industries at least into 2014.
A White House spokesman said President Obama wanted to visit Iowa and Minnesota this week so he could "see what's working" in states with such low unemployment. But if what's working is low taxes for the insurance industry, it's a "competitive advantage" strategy that by definition can't work in every state.
Part of what has helped Iowa fare better than the country has been investment from the state government.
"People never get too high, never get too low here. Things are pretty steady," Dan Culhane, president of the Ames Chamber of Commerce, told HuffPost. "We're home to a major research institution and as a result of that we see a fair amount of activity that's tied to Iowa State University."
Culhane said six companies had announced plans to expand in Ames in the past year, including a Spanish animal health firm that would be building a manufacturing facility at the university. The project will bring $80 million to the state and support 75 new jobs.
Iowa has also seen a more rapid growth rate for information technology than the rest of the nation. IBM, Google and Microsoft have all recently placed data centers in the state. The state government has pumped millions into IT development, and although it's not yet a dominant industry in Iowa, IT companies have also made nearly $600 million in new investments, according to the state's department of economic development.
"We're very fortunate," Culhane said. "That doesn't mean we don't have people who've lost their jobs in last 36 months, but all in all we continue to see a good flow of economic development activity."
Andre Allen, a 38-year-old father of four living near Des Moines, said he lost his IT job a year ago. "We're no better off than what the rest of the country is," Allen said. "At least that's the way I see it."
Allen, who lives in Waukee, told HuffPost he didn't file for unemployment benefits because he expected to get his career back on track almost immediately. Now he's working nights at a grocery store, and he said his wife, a teacher, is picking up extra work as a personal trainer and in a retail clothing store.
Allen said he voted for Tim Pawlenty in the Ames Straw Poll even though he figured he wouldn't support a Republican over President Obama come 2012. (The straw poll is open to any Iowan willing to buy a ticket.)
"I think it is very frustrating to be an American and be unemployed -- we're supposed to be the land of the free."