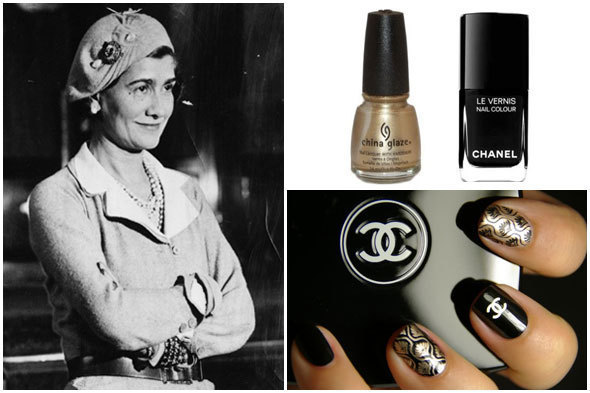 Photos: Coco Chanel, Evening Standard/Getty Images; China Glaze gold nail polish; Chanel Black Satin Nail Lacquer; Chanel-inspired nail art.
Not every girl can afford a Chanel quilted jacket or handbag, but you don't have to spend lots of money to nail the designer's look.
In honor of the late Coco Chanel's birthday (August 19), we pay homage with a très chic manicure created by Deniz of Emerald Sparkled. The mani maven perfected this design with black creme nail polish, China Glaze 2030 (a gold chrome) and metallic Chanel decals from eBay.
"I painted the decal on my thumb with black polish, and let it dry for about 10 minutes. I stamped the design from m83 in gold and black, and also the bead design from m62 on my thumb. I put a tiny drop of topcoat on my thumb and middle nails, and pressed the Chanel decals on top. After holding them like that about a minute, I topped everything with Sally Hansen Insta Dri," she wrote on her blog.
What do you think about this Chanel-inspired manicure?
Tell us in the comments section and shop the products below to recreate this nail art.
Check out this floral print mani inspired by Etro's Spring 2011 collection.