Food Informants is a week-in-the-life series profiling fascinating people in the food world. We hope it will give you a first-hand look at the many different corners of the food industry. Know someone who would make a great Food Informant? Tell us why.
Brooklyn-based Aaron Lefkove used to work in book publishing and as a freelance writer. After his office re-located to New Jersey, Lefkove decided he didn't want to do the commute. Lefkove and his business partner, Andy Curtin, had the idea for a Cape Cod-style seafood joint for awhile. One day at a barbecue, they decided to commit to opening a restaurant, Littleneck, Brooklyn's first and only classic New England-style beach side seafood shack.
Besides working in restaurants growing up, Lefkove had no experience as a restaurateur. He acknowledges that the process has been a major learning curve, but so far, there haven't been any obstacles they couldn't get around. At first, he thought opening up a clam shack would be easier than finding a new job but it turns it that it is actually "WAY WAY WAY harder." Despite this being the "hardest, most stressful, most frustrating, most time consuming, most ambitious thing" he has ever done, it isn't nearly as hard as he thought it would be. Plus, he says he loves working for himself, working toward something he has "always dreamed about," and building something really exciting.
Read Aaron's diary below to learn about all the the tasks involved in opening a restaurant.
Monday, September 5
Midnight: Spent most of Labor Day weekend dealing with the fallout of a shoddy plumbing job that forced us to turn off the water to the tenants -- who are also the landlords -- who live above the restaurant. After a last minute run to Home Depot, I was able to patch the leaking pipe with a piece of rubber and clamp and temporarily restore water to the apartments.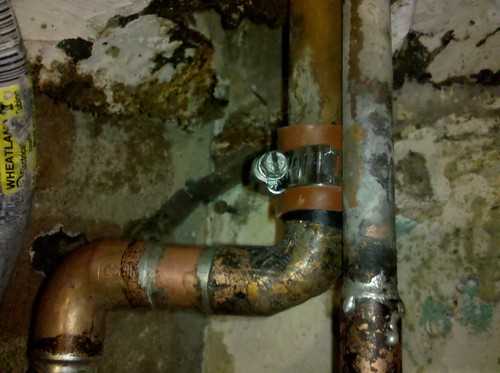 3am - 6am: Lay in bed staring at the ceiling filled with dread and visions of my amateur emergency plumbing job coming undone in the middle of the night and flooding our restaurant, which is about 85% of the way done with construction.
9am: Try all morning to no avail to get the plumber who performed said shoddy plumbing work back out to fix it. Later find out he is operating a roti stand at Brooklyn's annual West Indian Day Parade. So much for getting this thing fixed today.
2pm: Meet up with one of Littleneck's minority shareholders, who is also helping out with sourcing for our paper products, kitchen uniforms, and composting. I intend to go over where she is with everything for the week but we end up mostly just throwing back margaritas and a plate of nachos. Rethink the whole seafood thing for a second. Maybe a nacho stand would have been easier?
4:30pm: Go home, pay a bunch of bills, receive an irate phone call from the landlord whose water has been restored -- but is still not working properly. Call around to find a plumber willing to work on Labor Day for anything less than a small fortune. Not happening.
6pm: Go back to the restaurant to check on the contractor's progress. The backbar is nearly complete and the bathroom floor has been tiled and grouted. This place is starting to look like a restaurant!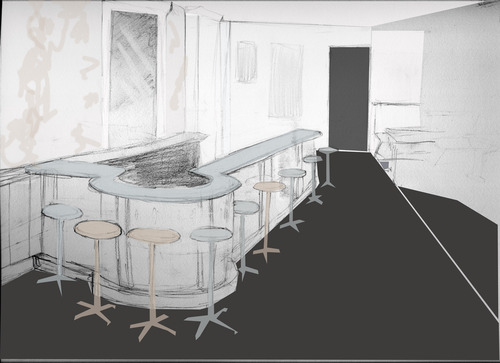 Tuesday, September 6
9:30am: Gotta buy a few more pieces of equipment, so I hit the bank to take out some cash. I'm going to go over to the kitchen supply houses on Atlantic Avenue while my partner deals with our plumbing inspection. This will be our third re-inspection in order to get the gas lines turned on.
10am: Meet the contractors at Littleneck. They are putting up a final layer of drywall in the kitchen. I clean up construction debris from the floor.
10:30am: The air conditioner units we ordered are being delivered. I help get the units off the truck and into the front of the restaurant. Our dining room has been doubling as a staging area for various large pieces of equipment. I will be so relieved when all these fixtures are finally installed and we can refinish the floors and put the tables and booths there.
11:30am: Head to Atlantic Avenue to try and find an ice machine and refrigerators for behind and underneath the bar. End up scoring a great deal for all three and actually come in significantly under budget. Unfortunately, while I am there I get a series of phone calls and texts from my partner regarding the plumbing inspection, which is not going very well. Apparently the inspector took issue with a few things that had previously been approved by the city plan examiner and previous plumbing inspector. The comments he makes ask for things that are above building code and not necessary. Looks like we have no choice but to make these fixes if we want to get a sign off for our gas to be turned on.
3pm: Arrive back at the restaurant and get a full rundown on everything we got hit with on our inspection. Immediately get on the phone with our plumber, architect and a rep from the New Business Acceleration Team, which is a pilot program set up by mayor Michael Bloomberg to help restaurants open more quickly and with less red tape. Thus far, the NBAT has been extremely helpful with providing a direct line to various city agencies and expediting certain things that would normally take several weeks to turn around. I would like to dispute the above code plumbing requirements.
4pm: Lunch. Grab some tacos around the corner at Oaxaca. The owner, David, has been incredibly helpful and encouraging of us and has offered some sage advice...and anyone that makes a Korean taco that good obviously knows what they are talking about.
5:30pm: Head back to Littleneck to clear away the debris from the day's construction. Bag up all the loose garbage, wood scraps, saw dust, sheetrock scraps and other detritus and push it all towards the front door for a pickup. We have been working with a trash removal company called Mr. Rubbish. He has an 85% recycle rate, which means that 15% or less of what he carts away ends up in landfills. That is an industry high and also in line with the core values we set out with of running our business as clean and eco-friendly as possible. Gotta schedule a pickup soon and get this all outta here. There is something very psychologically soothing everytime we have a trash pickup.
10pm: Finally get home. Answer a dozen or so emails of varying degrees of urgency that were received throughout the day. Scan a bunch of documents and email them to our bank's customer service rep to finalize everything for our merchant services. Littleneck can now officially accept credit cards! Now all we gotta do is get the place open.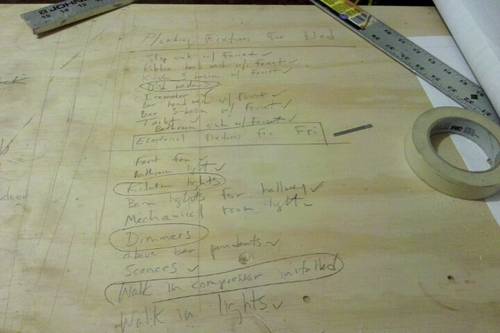 Wednesday, September 7
8am: Wake up and sit down with a cup of coffee. There is a staggering amount of paperwork involved when you open a restaurant. Every morning I try and get through as much of it as possible to keep it from overflowing. After about an hour in I am interrupted by my partner, who needs me to go on a run with him to grab more building supplies. After hitting 3 stores we have what we need and head to the restaurant.
11am: While supervising construction we go over our proposed menu with Littleneck's chef Ten Vong and make a few last minute tweaks and revisions. We are trying to keep the menu as simple as possible, but there are still dozens of variables with each dish that we have too review. Ten has also been working on the sourcing for ingredients. Talk about getting a few more clam and oyster purveyors to stop by for a meeting. Despite all the stress and legal wrangling and red tape negotiating this is what makes the endeavor totally worth it: clam and oyster tastings....lots of them!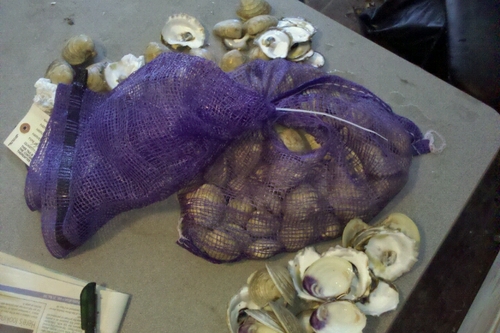 2pm: We meet with a reporter from a radio wire service who is interviewing us about Littleneck. Turns out she is also a cookbook author and a decent chef to boot. Who knew?
10pm: Drinks with a newspaper reporter interested in pitching a feature story about Littleneck.
11pm: Eat some pizza. Rethink the whole seafood thing. Pizza has such a steep markup for what the ingredients are. Also, I love pizza.
Thursday, September 8
10am: Walk to Littleneck to meet the guys who are installing the air conditioning units and get them set up for the day. While they are working on running the lines and doing the install I sand down the drywall in the back hallway, bathroom and kitchen and paint on a coat of primer.
2pm: Run down to Lowe's to buy paint and then return to the restaurant. Paint the kitchen a nice semi-glossy off-white. While I was gone the dishwasher was delivered. Although we took measurements on everything when we put the machine in place, we realize that is is covering the pull for the fire suppression system, which is a major code violation. The dishwasher has to go back and we need to find something that is smaller. Just the latest in a series of unforeseen obstacles with getting this place off the ground. No worries, though: the rep at Ecolab sends over spec sheets on some slammer undercounter style units.
3pm: Head over to the kitchen supply house to pick up faucets for the bar sink and a few other miscellaneous items needs to complete the plumbing job. Hoping by the end of the weekend everything will finally be plumbed in.
4:30pm: While we are in the car on the way back, I have a phone meeting with the plumber regarding the next inspection, which was scheduled for Friday but now has been pushed out until Monday. Fingers crossed we can finally nail this one and won't get hit with any more violations. The strange thing about building to code is that the code is always changing, so things that were approved initially may be irrelevant by the time you actually finish build-out.
8pm - Midnight: Put in a full shift of drinking with my partner and our general contractor. We plot out and schedule the major work that still needs to be done in order to get us to opening. We realize that, due to the mess of red tape with the city inspectors over our gas lines, we will not be able to make our original September 15 opening date. With the paint now dry, we also move a lo-boy refrigerator into the kitchen which, despite the fact that it is on wheels, is harder than it sounds. The fridge is too big to make the corner turn into the kitchen so it has to be turned vertical and put on a dolly and moved in that way.
Friday, September 9
3am - 6:30am: Lay in bed and stare at the ceiling. Wish for the toothfairy to swing through and leave a Xanax under my pillow. Check under pillow. No Xanax. Bummer.
8am: Up and out of bed. We have a full day today with four crews working simultaneously -- including two separate crews of plumbers, one to do the work needed to pass our next plumbing inspection and get our gas turned on finally and another to fix the shoddy work from earlier in the week that caused so many problems for the upstairs tenants. The electrician who is hanging all the lighting fixtures and our general contractor who is putting the final touches on the bar and countertops. While this is all going on I have a couple friends stop by and kindly pitch in a little free work in exchange for some beers. We had to tape our windows a week prior in anticipation of Hurricane Irene, which was supposed to touch down in Brooklyn. Today I have them cleaning off the duct tape residue with a scraper and hopefully next week our friend Leah will be able to get in and do the gilding.
Noon: Field what seems like a never ending string of phone calls from city officials, banks, contractors and equipment salesmen. The back and underbar equipment is delivered and while that is happening I negotiate a deal to unload a large bain marie that we bought early on but that is too big for our kitchen. Hoping to swap it out for a few other key pieces of equipment and various smallware items.
2:30pm: Amidst the chaos, I get a call from the Department of Buildings letting me know that our Letter of No Objection, the last piece of paperwork needed in order to pick up our liquor license, has been approved and is waiting for me at the office in downtown Brooklyn. I've been working since April to secure this very necessary document so this feels like a major victory.
6pm: Realize that we still need to build a platform in the backyard to mount the air conditioner condenser units on. Amazingly we are able to throw a 4 foot x 4 foot deck together in little under an hour. Wow.
7pm: The various crews have finished up for the day and my partner and I and whoever is still left hanging around head down the street to sit in the backyard of the local dive bar and pound a few Genesee Cream Ales, our cheap beer of choice. This day felt like it would never end, given that I was awake all day yesterday, most of the previous night, and all day today.
8pm: Abruptly peace out from the bar and walk home.
8:30pm: Shower (realize I haven't had time to do that in a few days).
10pm: Asleep.
Saturday, September 10
6:30am: The HVAC guys want to get started early and thus I'm rudely awaken by a phone call that they are about 10 blocks away from the restaurant. Jump out of bed and throw on some clothes and run down to the restaurant to open up and get them started on finishing the air conditioner install.
7:30am: Go home and sleep for another couple hours.
11am: Back at the restaurant to clean up and answer any specific questions the A/C guys have. They are miffed that the electrician did not run power to the units the day before. Great. Now I gotta deal with that.
2pm: Run into an old friend who is in the neighborhood working on an architectural project in the area. It is a proposed development and clean up of the land around the Gowanus Canal. We head down the street and grab a quick beer and talk about the various issues affecting the neighborhood where Littleneck is opening. This whole thing is still a gamble (but one I feel very strongly about) as we are still one of the first few restaurants to open up in the area. I feel there is a lot of really cool stuff bubbling up around there right now-- such as Brooklyn Brine, Four & Twenty Blackbirds, The Bell House, Issue Project Room and Oaxaca to name a few-- and there is certainly an underserved creative and working community around.
4pm: My friend Rachell stops by to check on the progress. She has been incredibly helpful with getting all the front of house issues and kinks worked out and is also collecting resumes for when we start staffing. Hoping that we will be doing that by early next week.
4:30pm: The AC guys finish up for the day and so do I. Gonna try and get out and enjoy what is left of one of the most beautiful Saturday afternoons in recent memory.
Sunday, September 11
10am: Every Sunday I like to go over the receipts from the previous week and do an accounting statement to figure out where our money is going and how much more it will take to get Littleneck open. So far, in spite of all the hidden costs (and everything has at least two or three hidden costs associated with it) we are still coming in under budget. Not bad, considering this whole thing has been a real learning process in a lot of ways for my partner and me. Neither one of us has ever done anything like this before so it has been a major trial by fire.
1pm: Done with paperwork and thankfully not much for me to do over at the restaurant space today. The plumbers are putting on the final touches for tomorrow's plumbing inspection and my partner is doing a little light carpentry today. We have done a really great job of delegating work between us and really figuring out where eachother's strengths lie and thankfully today I don't need to be there. Finally a little down time before the craziness starts up all over again.
See previous Food Informants below:
PHOTO GALLERY
Food Informants