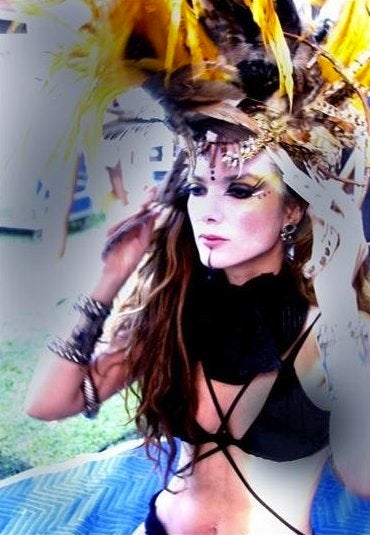 Current Gig: Although her business card may offer a more pragmatic title, ("artistic director"), Dream Rockwell is actually a magician. As a cofounder of LA artist collective The DoLaB and co-founder and creative director of the city's madcap vaudeville troupe Lucent Dossier, Rockwell produces events (check: Lightning in a Bottle, the DoLaB's annual engagement at Coachella and Lucent's worldwide performances), beloved for their stunning artistry and spirit of limitless self-expression. Recently back from Burning Man (where the DoLaB installed a massive structure called "Scrambled Eggs"), Rockwell is now preparing for Lucent's October run at the Palace Theatre.
How did you bring your vision to Los Angeles?
I came to Burning Man in 2003 and I met this random person -- somebody who I'd seen around, because I'd been going to Burning Man for several years. He asked, "What's your story?" I said "well I'm an actress and I make costumes and I'm a manager and I produce events in New York, and I'm going to move to LA."
He said, "if you arrive in LA like that, people are going to laugh at you. You need to be specific. If you can get a point on your arrow, people will come around and support you, and you will be able to fulfill your dreams."
Literally within an hour or two of that, I saw this vision of this traveling dome show with a caravan of artists, old school carnival style, but all the performances would take place in this collection of domes, and it would be like a festival circus performance art and fine art traveling exhibition.
Then [back in LA] I met [DoLab co-founders] Josh and Jesse, and I told Josh my vision of what I wanted to do. He had a similar vision, and we were like, let's do it, so we started the DoLab.
What do the DoLab and Lucent Dossier bring to LA?
Events where people can come and get silly without judgment. You can come and be cool too, if you want. You can wear your sunglasses at night if that's what turns you on. Whatever. I get uptight when I go other places. I'm not sure what the rules are or if I'm wearing the right outfit. Can I stand in this aisle? Am I bothering someone? I never know what's going on. I just love to create space where people can come and feel a sense of freedom about their playtime.
I love creating events where people can come and be who they really are. We're all just doing our best and trying to fit in. Earth is not an easy venue. I feel like just creating a little, tiny, magic door, like a cabinet of curiosities that people can go into and just rock out and be silly and forget for a second that Earth is hard, is great. That's what I'm into.
Do you think LA facilitates all of this artistry in ways that others cities wouldn't be able to?
Definitely. There are so many artists here. LA gets such a bad rep, but there's this underground scene happening here with these incredible artists who are coming from all over the world to create art. Maybe originally we all came with the dream of the Hollywood thing, but somewhere along the line we found ourselves in a different way. All those people are now looking for culture of some kind, so I think that LA is the most amazing place to come and make art.
What do you love about LA?
I love the sunshine, and I love it when it rains. I love hiking in the mountains. I hike every morning. You can't do that in New York. I'd go to Central Park every day when I lived there, but it's not the same. I love the ocean. I love the people. I love the food.
If we're talking about quality of food, I love Samosa House on Washington Boulevard in Culver City. It's not romantic -- it's almost cafeteria style, although nicer than that. They have Indian food, and they also have a grocery section where you can buy different Indian foods. It's vegetarian and it's amazing. The Jackfruit is ridiculous.
In terms of ambience, I like Planet Raw on Broadway in Santa Monica. It's a raw, vegan place, and it's really romantic and beautiful in there. I like to go to the Soho House too. It's super beautiful. I like sitting by the fire place up there in the winter time. We're not members, but we get brought there a lot by clients. I like Gjelina on Abbot Kinney, although I kind of hate to say it because you already can't get in there to save your life.
You live in Venice. What do you love about the neighborhood?
Everything. Riding bikes. Neighbors. Dogs. Children. Venice is awesome. I hate to plug Venice too, because it's so packed, but Venice is the bomb.
What do you hate or strongly dislike about LA, if anything?
I don't hate anything. Maybe traffic. That's pretty standard, but I've even turned that into something good. I don't like talking on the phone around other people; I think it's rude, so for my drive across the city, I make a list of all the people I need to talk to and use the drive to achieve all of my phone conversations. There's nothing wrong with this city.
What do you do when you're not working?
If I'm not working, I like to snuggle in bed and watch Netflix or read a book. I produce events for a living, and I produce the exact events that I want to be at with everything that I need to be satisfied with the quality of the event, so I pretty much don't go out if I'm not working. People always hit me up like "what's going on this weekend," and I'm like, "if I didn't tell you about it, I don't know."
Power yoga in Santa Monica, with Travis. I love Anaswara when I'm in really good shape. She's intense, and you've got to be ready for it. If I'm feeling good, I'll go to her class.
Your favorite hidden gems?
What's the last thing that made you say "Dammit, I love LA?"
It's for sure the people. It's the last thing people think of when they think of LA, awesome people, but I love the people of Los Angeles. I love the diversity.
Photos of Lucent Dossier's most recent show by Katie Bain/City's Best and Alberto E. Rodriguez/Getty Images
PHOTO GALLERY
Lucent Dossier