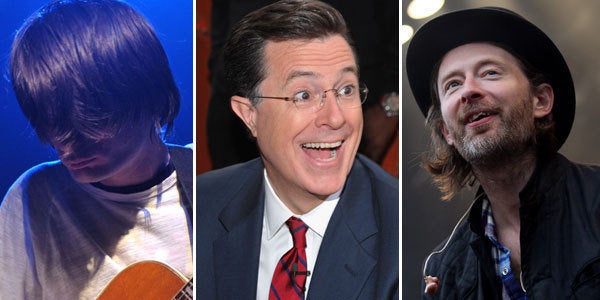 As if to say, "This is why you should have given us the Emmy," the "Colbert Report" announced Monday morning that it will be taping a special hour-long episode featuring international rock icons Radiohead. The super-show will feature performances by the band, interviews and some regular "Report" segments.
Colbert's affinity for music has lead to several memorable episodes, including the week-long "StePhest Colbchella" featuring Jack White, Bon Iver, Florence and the Machine and Talib Kweli. But this episode, scheduled for Monday, September 26, marks the first time the show has ever expanded to a full hour.
Via press release, Colbert explained his enthusiasm for the show, as only he could:
I look forward to meeting the Radioheads and leveraging their anti-corporate indie cred to raise brand awareness for my sponsors.
Radiohead will be playing tracks from "The King Of Limbs," including a new, previously unreleased song, "The Daily Mail." An exclusive track will also be available only at www.ColbertNation.com.
This will be one of many NYC stops that week for the influential band. They will kick off their visit as the musical guest for the season premiere of "Saturday Night Live" on September 24, and round the week out with two nights at Roseland Ballroom on September 28 & 29.