Emma Stone and Ryan Gosling are a couple once again, even if it is only on-screen.
Gosling was spotted sporting the 1940s attire for his new film, "The Gangster Squad," last week, but this is the first time Stone has been snapped since joining the cast earlier this summer. These two are joined by stars Sean Penn and Josh Brolin to tell the story of real life mobster Mickey Cohen.
Though Gosling and Stone may only be a hot item on the big screen, these photos Bauer Griffin snapped of the pair are undeniably adorable. With a picnic in the park and a cute little dog running around, this is one romantic date we'd love to be on. Take a peek at some of the photos below and for more, head over here.
PHOTO: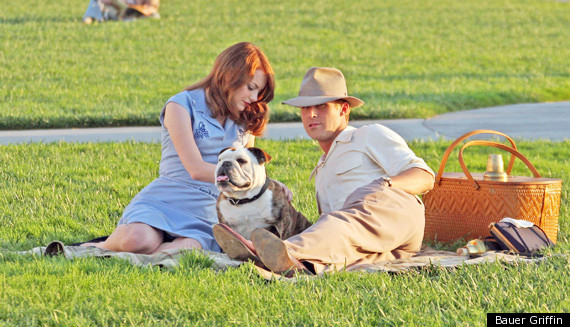 Check out some more photos of the faux couple on set.