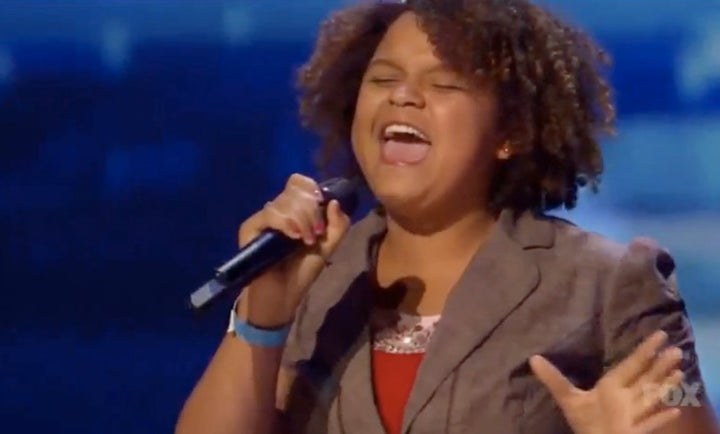 We began with a futuristic opening sequence of third-person reporting about the judges, news anchor-style, with the names of the judges zapped into the show -- LA Reid, Paula Abdul, Nicole Scherzinger, and of course Cowell. Speaking of Cowell, did he get some work done recently, or was it just the heavy-handed guyliner that made him look especially puckered on last night's show? Other questions abound: Who is host Steve Jones? Why was he shouting out to the cameras from a running tractor truck? And what is that accent?
Anyways, throughout the show, we got entrenched into some faux-rivalry between Simon and Reid, experienced the awkward judge handover from Outrageously Telegenic Woman Cheryl Cole to Outrageously Telegenic Woman Nicole Scherzinger, and even got a cutesy bit about her birthday, but as everyone knows the real meat of the show lies in the auditions. Onwards then!
Rachel Crow, 13.
It's no wonder why Simon and team decided to kick off with 13-year-old Rachel Crow: all loose lips, sassitude with a killer smile to boot, Rachel instantly charmed our socks off with her frank-but-funny assessment on why she needed the $5 million prize. "Okay, so you guys might think this is crazy, but my family has, like, NO money," she said, full of hand gestures. "My family lives in a two-bedroom house, and we have six people... I'm a girl. I need my own bathroom!" That the girl can sing -- "Mercy," by Duffy -- like hell is almost secondary.
Stacy Francis, 42.
The Brooklyn native's sob story was enough to make Lifetime movies look like comedy by comparison. Having moved to Los Angeles with dreams to make it big, Stacy gets entrenched in a toxic relationship with a man who rocks her faith by telling her she is no good and too old to make her singing dreams a reality. Now in her 40s with a three-year-old son, the stay-at-home mom enters a nation-wide singing competition to give it her one last shot and sings a soaring, tear-strained rendition of Aretha Franklin's "Natural Woman" that gets a famous record label executive to notice her... Coming to a theater near you.
Marcus Canty, 20.
Before we got to see the chipper Usher-in-the-making perform "I Wish" by Stevie Wonder, thanks to a dramatically-timed commercial break, I thought to myself "Um, why is he on the ground?" Well, now I know why: LA Reid compared him to Bobby Brown, Simon called him Usher ("you can sing AND dance"), and he got a standing ovation from the crowd. I'd be floored, too.
The Anser, 20-27
Besides the fact that the boy band looked like they had ripped a page out of an Urban Outfitters catalogue and followed the "How to be a Cute Hipster Boy" manual to a T, the trio were awfully entertaining with their all-over-the-place arrangement of Adele's "Rolling in the Deep." Guy in red glasses was almost too much to take, but I was giggling.
Chris Rene, 28.
I have a bone to pick with the show, and it's for performances like that from 28-year-old Chris Rene. Nothing against him -- he seems like a talented guy with a knack for rhymes and a subtle, sweet singing voice -- but it's the dramatic, "Extreme Home Makeover"-style cutting of footage that frustrates me because it's designed to be an instant tear-jerker. We get it: he's a trash hauler and just got through rehab -- only 70 days sober, even -- and his singing ability could be the only thing that saves him, gives him meaning in his life. He delivered outstandingly, of course, with a self-written song called "Yo Homie," and we're all left feeling like he's won something for himself and his son, all within five minutes. "I've worked with some of greatest hip hop artists from Jay-Z to Kanye, and all of my boys would be proud to tell me today that you are the truth," LA Reid told him.
It's manipulative and irresponsible, I think, to think that show like "X Factor" can not only scout out talent but also treat conditions as serious as addiction, and Cowell shouldn't let his show handle its contestants' back stories in the name of entertaining television. But we'll see. Does LA Reid have the most awkward head bob ever? Why were Paula and La Reid high-fiving? Will LA Reid make the chest-fist pump into 2011's most desired move? We'll also see.
Siameze Floyd, 30.
For a while there, I was worried that the trotting, heels-wearing Siameze with a large personality and even larger forehead would make it through -- Prince impersonation, mesh shirt and all -- for novelty effect, and I was exactly right. On second thought, given his spastastic, out-there performance, his energy drink "Siamenergy" might actually work.
Dan and Venita, 70 and 83.
I mean, there's nothing more to say about this odd couple other than may we all be so intensely in love, if not intensely deluded, when we reach their age. I thought they were cute.
Gio Godley, 43.
What with his silver velvet get-up, tie-dye shirt and hair pulled back into a greasy ponytail, Gio Godley looked a dead-ringer for a deranged cult leader. So I wasn't all that surprised when, in the middle of his self-written song "I'm a Stud" (SPOILER ALERT: he's not!), and after the line "We can do Bill Clinton stuff," the clothes came flying off and he dropped trou. Okay, I lied -- I was pretty surprised. Eeergh.
Two hours later, wipe away the tears, cue the Carl Orff music, it's time for the highlights of tomorrow's show! I can't wait. What'd you think readers -- did you prefer Cheryl or Nicole as a judge? Are you going to love LA Reid as much as I think I will? And who do you want to see more of, and who do you want to go? My money's on Rachel Crow at the moment. Surprised Disney hasn't snatched her up yet -- she's like a little Raven Symone in the making.
WATCH our "X Factor" highlights reel: