Name: Erikka Wang
Age: 34
Lives in: West Loop
Grew Up in: Champaign-Urbana, Ill.
Gig: Co-founder and co-owner of AKIRA, the Chicago-based clothing boutique that opened in 2002 and has since expanded to 15 locations in the city and suburbs. AKIRA will hold its Fall Runway Show, "Hall of Mirrors" at 7 p.m. Oct. 2.
You were working in Los Angeles a few years after graduating from U of I. Why did you choose Chicago as a place to open a fashion boutique?

You know, Chicago is one of those places -- it's the third largest city -- and ten years ago, Chicago didn't really have the fashion scene you know now. There was no Top Shop. There was no Zara. Why can't the third largest city in the U.S. have a great fashion scene? We have the architecture. We have the restaurants. Why can't we have the fashion scene? I had landed in L.A. at the time, and it was so happening, so cool, so edgy. I decided that Chicago is kind of like my hometown, so why not transport what L.A. and New York has to Chicago?
Where does the name AKIRA come from?

It's basically my name, Erikka, backwards, if you took out a 'k' and put the 'a' in. We (Wang, along with co-owners Jon Cotay and Eric Hsueh) had no idea until the store incorporated that it was a Japanese name. We brainstormed so many times. AKIRA, to us, was such a mystery.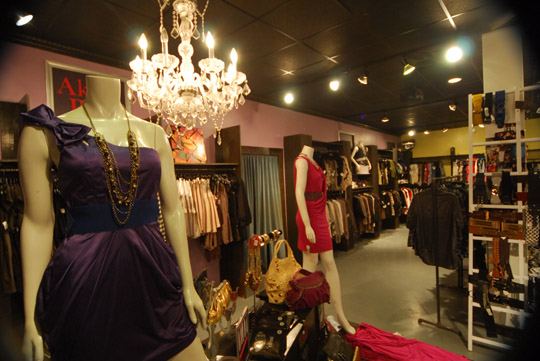 Inside AKIRA
When it comes to fashion, the traditional thinking is that what's in style on the coasts takes a few years to come to us in the Midwest and to Chicago. How much of that is a misconception and to what extent, do you think, is it true?

I think that it's still somewhat true. It depends on the style, really...My theory is that with Chicagoans, there is a small niche of people out there who are very daring and who are risk takers, but I would say a majority of Midwesterners play it safe and practical. I would say it's just the culture. In New York and L.A., there are so many red carpet events. In Chicago, what red carpet scenes do we have here? On the coasts, there's a celebrity influence, but we're in the middle of nowhere, so the time just lags a bit. I'm not saying it's a good thing or a bad thing, but it's the consumer atmosphere.

What would you consider distinct or quintessential Chicago style?

I would say, for the fall, leggings and boots and an oversize sweater. Leggings go with everything and it's easy to wear. Boots with leggings and oversize sweaters -- that's a Chicago thing.
What else will be hot around Chicago for the fall?

Tribal prints are really big right now or those Aztec prints. The color red is going to be a huge color for the fall. Red dresses give a pop of color that always makes people happy because everything here is so black, gray and brown. Embellishments on the shoulders or on the front of dresses. Cut-out dresses and mesh dresses. Studs for boots and studs for shoes, boots or ankle booties. On belts or accessories, studs are still a pretty popular trend.
What are three essential pieces of footwear that Chicagoans need?

For sure, you need a pair of flat boots that you you can just wear every day with a different outfit. You'll need a winter boot that will last you -- Sorel is something that we carry. Something waterproof that's a boot that's fashionable and not too expensive. Everyone needs a cute little bootie, whether platform or wedge, that you can wear out to a party and that's very versatile.
What do you love about Chicago?

I really do like the people. I really think that it's this whole Midwestern culture. People in Chicago are very down to earth. It's not as crazy as New York where there's hustling and bustling all the time. The architecture is nice. There's so many different pockets of neighborhoods and every little different pocket represents a different culture. The diversity of it makes it so nice for people to live in the city. Eric is from Springfield and Jon is from Indiana, so we all have that sense of Midwestern culture in us.
What aggravates you about our city?

Two things: Sales tax. I think Chicago has a very high sales tax that's definitely not customer friendly. And I think Chicago should support recycling. I think recycling should be free. Whether it's residential or commercial, as opposed to having people paying for it, the city should just promote it.
What's your favorite restaurant in Chicago?

One of my favorite places is Chez Joel. It's a French restaurant in Little Italy with a very intimate outdoor space. It's not like a be-seen place. It's family or date-oriented. It's not pretentious -- just cozy, intimate and the food is amazing.
What meal in Chicago would you be unable to live without?

I would say the truffle pasta at Gilt Bar. They have this amazing truffle pasta. After you order one plate, you want to order a second plate.
What about your favorite neighborhood spot?

I would say the Publican. It's just down the street from my house. It's good and it's homey, and it's not pretentious either. It's good for a big group of people to go together.
Where would you be shopping at?

The truth is, when I'm in Chicago, I don't really go shopping in the city. If I have friends in town, we'll go to the Michigan Avenue stores and Bucktown. A lot of times I just take them to AKIRA.
Where would you go for dessert?

Artopolis. It's this really cute little cafe that's hidden on Halsted. Number one, it looks like a bar, but it's really not. The quiche and everything from the bakery is made from scratch. They have rice pudding to baklava to American desserts to Greek desserts.
When you're not working, what are you doing with your family (Wang has a fiance, four year old son and is pregnant with a baby girl)?

We would probably ride our bicycles to the lake and go to Lincoln Park Zoo and enjoy the zoo. That's one of the things about the city that's so great. You can ride your bike across to Lake Shore Drive and the lakefront. That itself is a beauty of Chicago. If we're going to dinner, we'll go to Chez Joel or Tuscany on Taylor Street.
Mode of transportation?

Driving. Just because we have stores in the suburbs, and it's easier if I decide to go to those stores. I drive a black 2010 Toyota Highlander and a silver 2009 Toyota Prius.
How would you describe Chicago in one word?

Diversity.
The AKIRA Fall Runway Show 2011, "Hall of Mirrors," takes place at 7 p.m. (doors open at 4p.m.) Oct. 2 at the Grossinger City Autoplex, 1500 N. Dayton Street. Tickets are $15 or $125 for VIP, and the show benefits Imerman Angels.