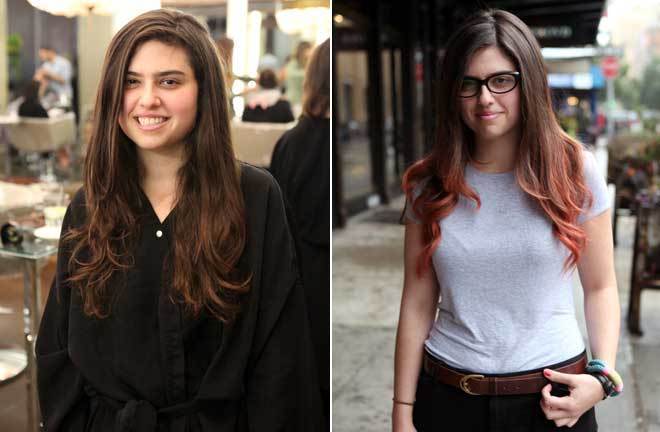 Before and after.
Throughout my entire life my mother stressed natural beauty. She never let me experiment when it came to hair trends: no dyes –- temporary or permanent, and no unconventional cuts. The worst was every September, while the other girls got their back-to-school highlights, I stuck to the same boring style.
Now in my early twenties, I adhered to my mother's rules, until I met Aura Friedman.
A petite hairstylist with spunk to spare, Aura is a very in-demand hair colorist who has coiffed many a celebrity. From Lady Gaga to M.I.A., she has even colored entire runway shows including Alexander McQueen. Which brings me to my recent hair makeover.
Backstage at Peter Som's Spring 2012 show, Aura gave the models strategically-placed rose-gold hair pieces which added a bit of punk edge to their otherwise casual Cali-waves.
I sat in Aura's chair not knowing what I wanted exactly –- I knew I liked the warm, rose-gold hues at Peter Som, but I didn't want the obvious streak. We settled on a strong mix of gold and red Wella Products hair dye that would bring out the natural mahogany tones in my hair. Rather than a straight dip-dye, Aura separated my hair into about two-dozen sections and teased the locks midway between my scalp and tips. The idea was that my hair wouldn't be perfect, and I appreciated the clever approach. Too straight, too shiny never really worked for my lifestyle. The teasing diffused the artificial line and this technique she said, was much more organic-looking and worked with my layered cut.
Keep reading below the slideshow..
All photos by Bobby Doherty
Nervous doesn't even describe how I was feeling. I lost count of how many times I told Aura, "My mom is going to kill me!" More than a Xanax, I needed the overall look to be more subtle than severe, which was hard to foresee considering the dye was fuchsia. She explained that the tips of my hair received two coats of the nearly neon color, and she tapered the amount used as she worked her way up.
I sat with my strands cocooned in Saran Wrap until it was time to wash out the dye. She then applied a toner for 10 minutes, which gave my crimson tips a more golden and rosey tint. With Wella Professional Color Touch and Relights my hair was blown out to perfection, the strands seamlessly fading from my natural brown to shades of dusty pink.
Afterwards, I sent my younger sister snapshots of my new 'do, and immediately after her approval she squealed, "Have you told mom yet!?" I hadn't because my mother knew nothing of the appointment. Luckily, we had dinner plans that evening.
As I spotted my mom across the parking lot, I didn't know what her reaction would be. I imagined plenty of tears and maybe even disownment.
And as I predicted she got teary-eyed when I revealed my new look: "What did you do!?" she exclaimed and without hesitation I replied, "Well I like it, so who cares what you think."
Little did I know that I do care what other people think. My father asked if I dipped my hair into tomato soup and one of my friends suggested that it wasn't office appropriate. I suddenly worried if strangers would judge me, I was so accustomed to being a wallflower in terms of my hair that I didn't even consider the consequences of a very loud look.
So do I regret the change? Absolutely not. I wanted something fresh, and it is September after all -– time to turn over a new leaf. I see these rose-gold tips and get a sudden bout of self-confidence -– something I haven't felt in a long time. And I believe that that feeling makes the whole process worth it.
And hey mom, at least it's not a tattoo!
To see where Aura gets her color inspiration from, check out her blog: Color Makes All The Difference.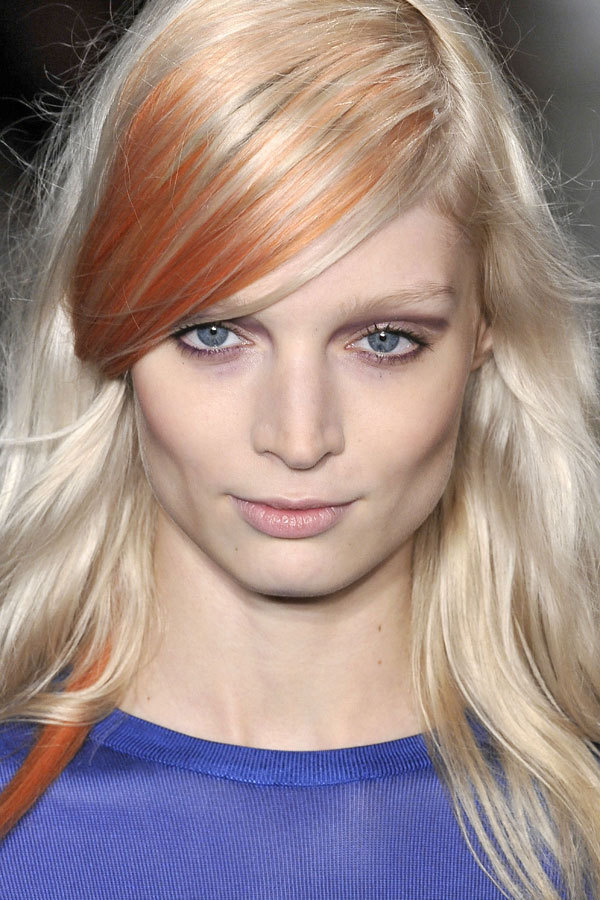 Model wearing rose-gold hair pieces on the runway at Peter Som's Spring 2012 show. Photo: Victor VIRGILE/Gamma-Rapho via Getty Images