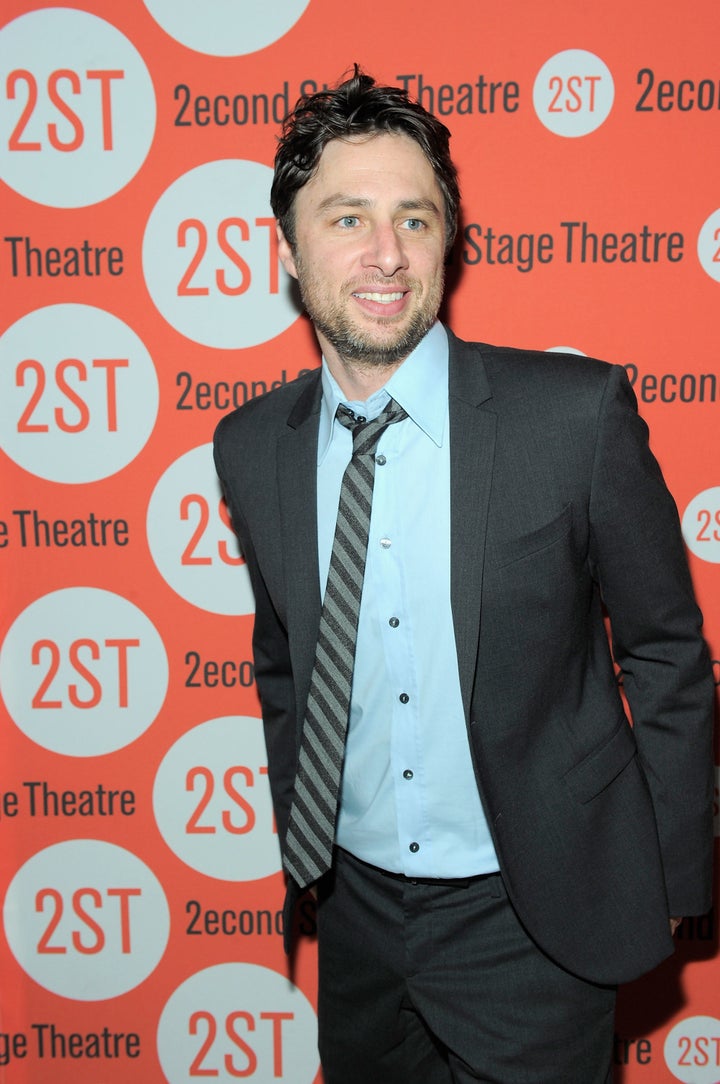 Taking a page from the Ashton Kutcher handbook, Zach Braff explored his inner geekdom by hosting an all-day "AMA" session on Reddit yesterday (that's "Ask Me Anything," for the Luddites out there). Under the handle "zachinoz" -- a reference to the Sam Raimi film he's currently filming with James Franco and Michelle Williams -- the "Scrubs" star candidly fielded questions on his career, proudest moment and best kiss. He wisely remained mum about others, like what Natalie Portman smelled like. Here, we present some of his best quotables.
On preparing for his audition for JD on "Scrubs":
I auditioned 6 times. In the end I was up against 4 guys. One was kinda famous. I knew Bill wanted me, but sometimes the network disagrees. I wore the same outfit every audition and listened to Radiohead's "Stop Whispering" and Blind Melon's "Change" to get me pumped up too.
On where "Eagle" came from:
Never in my wildest dreams would I have imagined this would become so popular. I was once in Israel in the middle of nowhere and this beautiful Israeli girl came up to me and said "Eagle?" like she was asking a question. So bizarre. Brendon Frasier was swinging me around and I thought it would be funny if JD couldn't help but enjoy it. He felt free like an Eagle. Made me laugh. Guess it made some others laugh too. Eaaaaagllleeeee!
On the kid who fake spray-painted his porsche for the MTV show Punk'd:
I punched him in the stomach (as I recall). Who amongst you wouldn't have? They edited it out though. You're not allowed to punch little kids on MTV. Lame.
On his best on-screen kiss:
Amy Smart. TCW. Answered.
On writing new scripts post "Garden State":
Yes. Written several since GS. But 3 have fallen apart. I also had to balance that with Scrubs. So now that the show is over I hope to direct soon. But I just got this super cool part in the prequel to "Oz" so I'm writing something here during my downtime...
On which TV show he'd like to guest-star on:
Maybe Zooey D's new show, cause i love her. I also like Mad Men.
On the proudest moment of his life:
Standing at Sundance in the back of the theater when GS screened for the first time. No one had seen it. Not one person in my whole family. The room was filled with SO many people who had passed on the script. (Some multiple times.) I cried. And a few hours later Harvey Weinstein called me on my cell phone.
And finally, because we all want know -- what he has to say about this:
I guess I kind of see it. I also get Dax Shepard a lot. I think we could be cousins...