Karla Flores is not the only one who's lucky to be alive after a live grenade became lodged in her face.
The nurse and three doctors who volunteered to operate on her to remove the live round -- which could have exploded at any time, killing anyone within a 32-foot radius -- are also counting their blessings.
On August 6, Flores, a 32-year-old mother of three, was selling seafood on a street in Culiacán, a city in the northwestern state of Sinaloa, when she heard an explosion and was hit in the face and knocked down, according to Gizmodo, which translated a video report from Mexico's El Universal TV (available below).
When she removed her hand from her face, she found it covered with blood, The Daily Mail reports. She subsequently fainted, and awoke in the hospital.
A CT scan and x-ray revealed that an unexploded 40-mm grenade was obstructing Flores' trachea, El Universal reported in Spanish.
According to a HuffPost translation, Spain's El Mundo reports that several doctors refused to operate on her because the round was live and could explode at any moment. A hospital doctor reportedly requested "a brave doctor who could help the patient under extremely risky conditions."
Three doctors and a nurse volunteered, and they took her to an open field to perform the surgery to minimize injuries to others should the grenade explode, according to Gizmodo's Jesus Diaz. Under the watchful eye of explosives experts from the Mexican military, they gave her a tracheotomy and successfully removed the grenade.
According to El Mundo, the operation took four hours and Flores was given only local anesthetic.
El Universal reports that the grenade caused her to lose teeth and left a three-inch wound in her right cheek. Doctors said that the soft tissue in that area of her body kept the live grenade from exploding.
According to El Universal, Mexican authorities say that the grenade most likely was fired from a launcher attached to an automatic rifle. People in the area where the explosion occurred are reluctant to speak about what happened.
The Associated Press calls Sinaloa "the cradle of drug trafficking" in Mexico, and the state has been plagued by violence. Last month, five youths were gunned down at a hot dog stand in the area. And just weeks later, the body of Humberto Millan Salazar, a journalist, was found just outside of the city. He had been shot in the face.
LOOK: X-Ray Image of Flores' Face: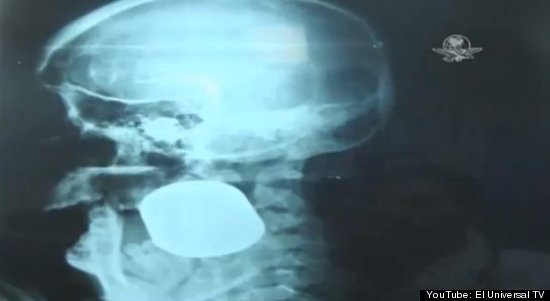 WATCH: Una Granada Se Incrustó En Su Cara, No Le Tocaba Morir, from El Universal TV: