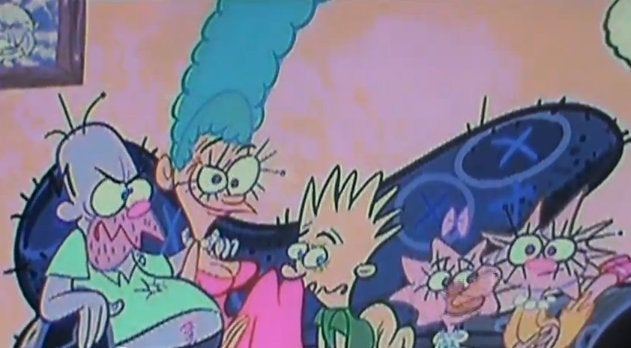 Animation icon John Kricfalusi, best known for creating the pivotal cartoon "The Ren and Stimpy Show," guest animated the opening "couch gag" in the introduction sequence of "The Simpsons" on Sunday.
The second episode of the 23rd season of the long-running show, entitled "Bart Stops to Smell the Roosevelts," saw only the second time that "The Simpsons" had employed a guest director for its opening sequence, after last year's famously politically-charged sequence by the artist Banksy.
Kricfalusi, known to fans as "John K.", has long been an outspoken critic of modern animated shows. Prior to this collaboration, "The Simpsons" had occasionally been the target of his attacks. In a 1993 episode of "The Simpsons," the writers included a dig at "Ren and Stimpy" in retaliation to derogatory comments Kricfalusi had made in the press regarding "The Simpsons."
Known mostly for his grotesquely-drawn, hyperkinetic cartoons, Kricfalusi brings his decidedly unique vision to his "Simpsons" couch gag. He also posted some storyboards for the sequence on his blog.