If you've logged into Facebook recently, your news feed has most likely been flooded with messages about the death of Steve Jobs: reflections, tributes, tweets and news articles about the Apple co-founder's life and passing.
But some Facebook users have seen a scam, reports Graham Cluley at software security company Sophos, that offers those who click a link the chance to get a free iPad.
"In memory of Steve, a company is giving out 50 ipads [sic] tonight. R.I.P. Steve Jobs," the post reads. The shortened bit.ly link takes you to an online survey where you're told you'll have to qualify, Sophos reports.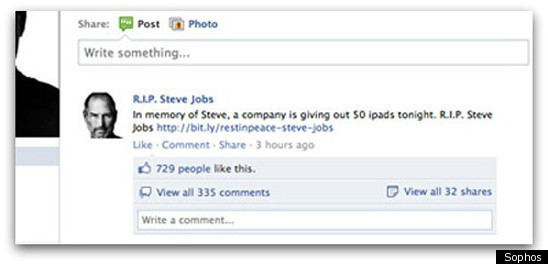 According to AllFacebook.com, the post was linked to on the RIP Steve Jobs Facebook page, a page that as of this writing, has over 13,000 members.
Sophos alerted bit.ly of the scam, and the link shortening service has since posted a warning that comes up when someone clicks on the page. But over 15,000 people had already clicked on the link by the time Cluley authored his post.
Facecrooks.com, a site that monitors social media, warns of another (and similar) scam, one that says Apple is offering to give away 1,000 iPad2s "in memory of Steve Jobs."
Scammers exploiting the death of a well-known figure is nothing new. In May, a scam circulated over Facebook and email that promised clickers a video of Osama bin Laden's death. Similar scams in July promised videos of singer Amy Winehouse's death, Forbes contributor Tim Worstall notes.
In July, a scam promising to show a video of Casey Anthony's "confession" made the rounds on Facebook.
Take a look at our slideshow (below) to learn about the most common Facebook scams to watch out for