Family vacations in Oregon can be rewarding experiences or absolute disasters -- it all depends on pre-trip homework. To make planning easier, we've done all the preparation. As part of a Huffington Post Travel series on traveling with children, here are answers to some frequently asked questions about Oregon family vacations.
Crater Lake National Park
Crater Lake is an amazing thing of beauty in the heart of Oregon. The fresh water lake goes down more than 1,500 feet and is surrounded by 2,000-foot-tall cliffs. An amazing spot for a hike, camping or just a few minutes of reverent awe.
Address: Crater Lake, OR
Phone: 888-774-2728
Hours: The park is open November to April from 10 a.m. to 4 p.m. and May to October from 9 a.m. to 5 p.m.
Price: Car, $10.00 (seven day pass); Motorcycles, bicycles & pedestrians, $5.00 per person (seven day pass).
Portland Children's Museum
Portland Children's Museum is a fantastic spot to engage little ones no matter what time of year you visit. The large space in the hills of southwest Portland boasts fun events and a bevy of hands-on activities for young ones of every age group. And with the Oregon Zoo and the Hoyt Arboretum sitting right next door, you can easily spend a full day without anyone complaining of boredom!
Address: 4015 SW Canyon Rd., Portland, OR 97221
Phone: 503-223-6500
Hours: The museum is open daily from 9 a.m. to 5 p.m., except Thursdays when they are open until 8 p.m. On the first Friday of every month museum admission is free from 4 p.m. to 8 p.m.
Price: General admission, $9; military and seniors 55 and older, $8; 1 and younger, free.
Oregon Zoo
Oregon Zoo resides just outside of Portland's downtown core and is easily accessible by public transportation or car. It's well worth the drive too, especially with it's brand new Predators of the Serengeti exhibit and beautiful Pacific Shores exhibit that highlights the animals and landscape of the Northwest.
Address: 4001 SW Canyon Rd., Portland, OR 97221-9704
Phone: 503-226-1561
Hours: During the winter the zoo is open from 10 a.m. to 4 p.m. During the spring it is open from 9 a.m. to 4 p.m. It is open during the summer from 9 a.m. to 6 p.m. During the fall the zoo's hours are 9 a.m. to 4 p.m.
Price: Adults, $10.50; children, $7.50; seniors, $9.
Enchanted Forest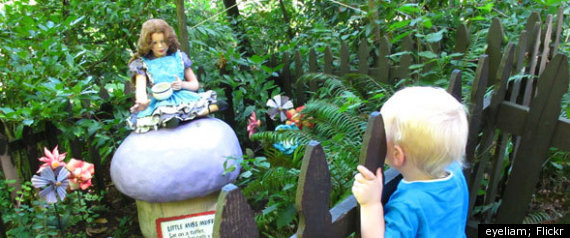 Open since 1971, Enchanted Forest has been a great destination for nostalgic adults and small children thanks to its kitschy charm and rustic location. It features a Haunted House, thrilling log ride and a roller coaster. Younger kids will enjoy the stroll down Storybook Lane, a physical tribute to fairy tales from around the world.
Address: 8462 Enchanted Way SE, Turner, OR 97392
Phone: 503-371-4242
Hours: Enchanted Forest opens daily at 10 a.m. Dates depend on the time of year that you visit.
Price: Adults, $9.95; seniors ages 62 and older, $8.95; children ages 3 to 12, $8.95; children ages two and younger, free.
Tillamook Cheese Factory
Learn how Oregon's famous cheese and ice cream is produced with a stop for a tour at the Tillamook Cheese Factory. Take the self-guided tour and stop by the interactive displays and viewing windows. Or ask for a guided tour that will give you the history of the cheese makers and some insight into how their delicious wares are created.
Address: 4175 Highway 101 North,Tillamook, OR 97141
Phone: 800-542-7290
Hours: The factory is open daily from 8 a.m. to 6 p.m. During the summer the factory is open from 8 a.m. to 8 p.m.
Price: Free.
Oregon Museum of Science and Industry
The Oregon Museum of Science and Industry is open all year round and offers many permanent and revolving interactive exhibits, an IMAX theater and a planetarium. Be sure to take a swing through the U.S.S. Blueback Submarine, a fast attack vessel that has been featured in movies like The Hunt For Red October.
Address: 1945 SE Water Ave, Portland, OR 97214-3354
Phone: 800-955-6674
Hours: The museum is open Tuesday through Sunday from 9:30 a.m. to 5:30 p.m.
Price: Adults, $12; youth 3 to 13, $9; seniors 63 and older, $9.
Cannon Beach
The picturesque Cannon Beach will look familiar to fans of the film The Goonies since Haystack Rock and the beach are featured in the closing scenes. But beyond that, the beach will leave you speechless with gorgeous views of the Pacific Ocean.
Address: Cannon Beach, OR
Phone: N/A
Hours: N/A
Price: Free.
What's your favorite vacation spot in Oregon?
Mid photo: Eyeliam; Flickr
Check out more FAMILY TRAVEL GUIDES.