Family vacations in San Diego can be rewarding experiences or absolute disasters -- it all depends on pre-trip homework. To make planning easier, we've done all the preparation. As part of a Huffington Post Travel series on traveling with children, here are answers to some frequently asked questions about San Diego family vacations.
Legoland California
Legoland, which is located about 30 minutes from San Diego in Carlsbad, has a little bit of everything to keep a family entertained, including a water park, rides, shows, an aquarium and even a mini golf course. A nice touch that is unique to this park is that each ride has a Lego station so that kids have something to do while waiting in line. One of the park's most popular areas is Miniland, where 20 million Legos have been used to create miniature reproductions of seven different places in the United States.
Address: One Legoland Drive, Carlsbad, CA 92008
Phone: 760-918-LEGO
Hours: Open daily during the summer season from 10 a.m. to 6 to 8 p.m. It is open only on a limited basis during rest of the year.
Price: Children Ages three to 12, $59; seniors 60 and over, $59; ages 13 to 59, $69
Sea World
Sea World's many shows and exhibits give visitors a truly fascinating peek at the life aquatic. Be prepared to be thoroughly entertained by the park's famous killer whale show, the comical penguins in the Penguin Encounter, a scary walk through a shark tunnel, and the hilarious Sea Lions Live show, plus a lot more. As a nice change of pace from all the shows, Sea World also has a number of rides for its visitors, such as Journey to Atlantis.
Address: 500 Sea World Dr., San Diego, CA 92109
Phone: 800-257-4268
Hours: The park opens generally between 9 a.m. and 10 a.m. and closes anywhere between 6 p.m. and 11 p.m., depending on the season. Consult the park's website for details.
Price: $69.99 for guests 10 and older; $61.99 for guests ages three through nine; free for guests two and under
Knotts Soak City
When it comes to water attractions, Knotts Soak City pretty much has it all, including a wave pool, a lazy river and, of course, many body and raft slides. The Pacific Spin, a four-person raft ride through a gigantic, swirling funnel, is probably the park's biggest draw for thrill seekers. For little ones, Knotts Soak City has a wading lagoon and a large family fun house.
Address: 2052 Entertainment Circle, Chula Vista, CA 91911
Phone: 619-661-7373
Hours: Knotts Soak City is open on a limited basis at the end of May, then every day during the months of June, July and August. It is open in September every day until Labor Day, and then only weekends for the rest of this month. The park opens generally between 10 a.m. and 11 a.m. and closes anywhere between 4 p.m. to 7 p.m., depending on the day of the week.
Price: Junior, three to 11, $21.99; regular, 11 and older, $31.99; seniors over 62, $21.99
Coronado Beach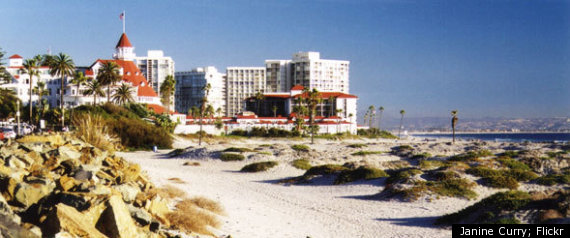 With its wide sandy beaches and family-friendly surf, San Diego's beautiful Coronado Beach has long been considered one of Southern California's best. In 2011, it was voted number two on Dr. Beach's Top 10 Beaches list, and it was also runner-up on the Travel Channel's Top 10 Southern California Beaches list. While there, visitors should stop by the Hotel del Coronado, a local landmark, which is popular with visiting celebrities and dignitaries.
Address: Coronado, California
Phone: 615-522-7300
Hours: Open daily.
Price: Free
New Children Museum
San Diego's enchanting New Children Museum challenges children of all ages to think creatively and to learn by doing. Some areas in the museum are geared towards specific ages so that each child can find something to do that won't make him feel either overwhelmed or bored. There are also activities and crafts throughout the museum that children all ages can do together.
Address:200 West island Avenue, San Diego, CA 92101
Phone: 619-233-8792
Hours: Open 10 a.m. to 4 p.m. Monday, Tuesday, Friday and Saturday. Open 12 p.m. to 4 p.m on Sunday. Closed on Wednesday.
Price: Adults and children, $10; under one year, free; seniors 65 and over and military, $5
San Diego Bay Parade of Lights
Every year in December, boats of all sizes and types deck out in Christmas lights and parade in front of enchanted spectators. Fireworks signal the beginning of the festivities and then for the next approximately hour and a half, a fleet of boats, dressed up in their holiday best, float down the parade route and pass an estimated 80,000 happy viewers.
Address: 1220 Rosecrans St # 414 San Diego, CA 92106-2674
Phone: 619-224-2240 (October to December only)
Hours: Two consecutive Sundays in December at around 5:30 p.m.
Price: Free
San Diego Safari Zoo
The San Diego Safari Zoo is unlike most zoos in America. Here, the park's animals roam free, almost as they would in the wild. Visitors can choose to view them in a number of different ways: by tram, a cart, while riding a Segway or even from above on a zip line. Guests can also choose to take a safari ride into some of the exhibits to meet giraffes and rhinos. The San Diego Safari Zoo has shows and a petting zoo as well.
Address: 15500 San Pasqual Valley Road, Escondido, CA 92027-7017
Phone: 760-747-8702
Hours: Open every day. The park opens at 9 a.m. and closes between 5 p.m. and 7 p.m. depending on the time of the year and day of the week.
Price: Children ages three to 11, $30; adults 12 and over, $40
What's your favorite vacation spot in San Diego?
Mid photo: Janine Curry; Flickr; Flickr
Check out more FAMILY TRAVEL GUIDES.