Since Apple co-founder Steve Jobs passed away on Wednesday, people around the world have been erecting memorials in honor of the inventor both online and off. Corporations have remembered him on their websites, TV hosts have included him in their shows, and fans have left apples, flowers and letters on the doorsteps of Apple stores throughout the country.
Greek artist Charis Tsevis has created portraits of Jobs that are made entirely out of the products he invented. According to Daily Mail, Tsevis created the portraits when Jobs went on indefinite medical leave from Apple. He is quoted there as calling the collages the "ultimate get well soon gesture" (See the collage above).
Tsevis isn't the only artist who has been inspired by Jobs. Jonathan Mak, a 19-year-old student in Hong Kong created a play on Apple's logo that incorporated Jobs' silhouette into the iconic bitten apple. Although, according to International Business Times, it had originally been made after Jobs' resignation, the design went viral on Thursday after Jobs' death. The design has been re-posted hundreds of thousands of times, and even Ashton Kutcher tweeted about it.
"It's been a crazy day for me," Mak told Reuters on Thursday.
Check out Mak's reimagined Apple logo below: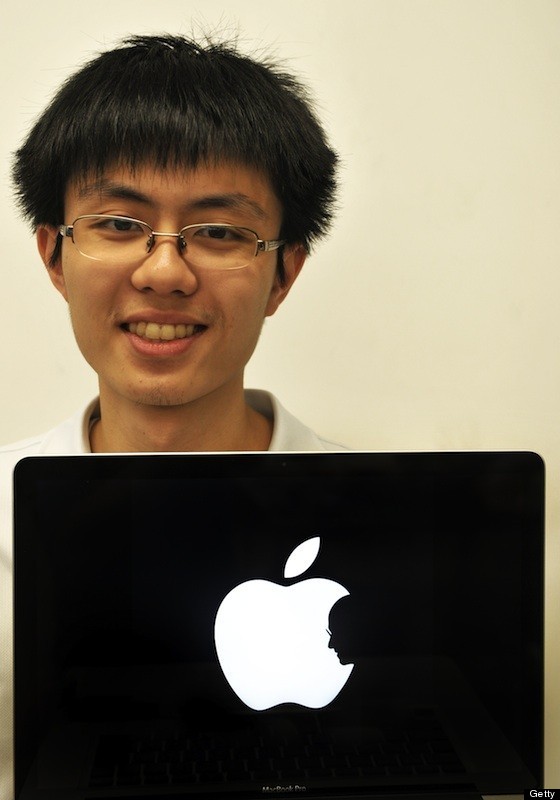 via Getty Images:
Jonathan Mak, a student at the Polytechnic University, poses with his laptop showing his self-designed sombre logo in tribute of Apple founder Steve Jobs in Hong Kong on October 7, 2011. The logo, a black background with Jobs' silhouette incorporated into the bite of a white-colour Apple logo, has gone viral on the Internet and was reposted rapidly on social media sites since news of Jobs' death. The 19-year-old Hong Kong design student said he was overwhelmed and 'flattered' after his tribute to Apple's Steve Jobs caused a worldwide Internet sensation.
BEFORE YOU GO