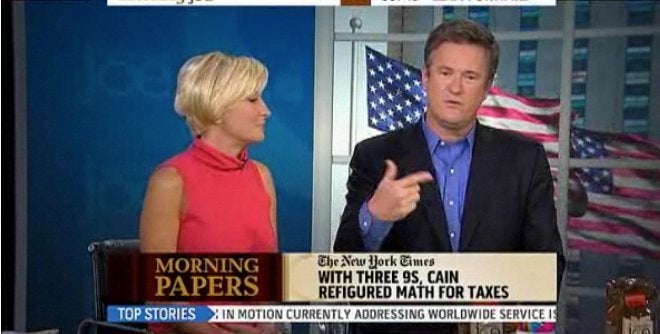 Joe Scarborough brushed off Herman Cain's surge in the polls by using an analogy to Al Qaeda on Thursday's "Morning Joe."
The MSNBC host began his rant about the GOP race by bragging that he had been right every time about various candidates not being able to win. He ticked off a list of his predictions that had come true, including his write-offs of Rick Perry, Michele Bachmann, Newt Gingrich, Donald Trump and Sarah Palin.
"I've got the Republican party nailed down," he boasted, rubbing it in the face of detractors who he said sent him hate mail. Then he predicted, "Herman Cain, flavor of the week, he will not win the nomination."
Scarborough called himself the "Obi-Wan Kenobi" of pundits. "Just strike me down and I only get stronger, Darth," he said.
"So Haagen Dazs Black Walnut is not gonna be the Republican," Mika Brzezinski summed up, bringing up what Cain called himself.
The analogy startled Todd and co-host Brzezinski who both started laughing. "That is terrible!" Brzezinski said.
"That's not gonna play well in the media blogs," Todd joked. Someone else off-screen could be heard saying, "That's going straight to the web." Happy to oblige, MSNBC!
WATCH: