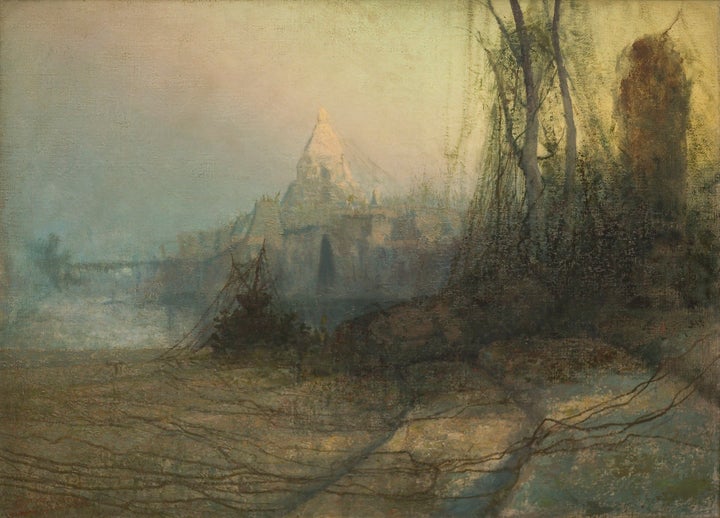 On Saturday, San Francisco's International Art Museum of America will celebrate its grand opening, complete with a ribbon cutting ceremony with Mayor Ed Lee. The museum will offer an art gallery, a waterfall garden and meeting rooms to encourage community events.
I have NEVER been more entertained in my life [...] The art is pretty good [...] But the placecards next to each piece MAKE the museum. Some quotes from the placecards: 'This piece is more natural than nature itself,' 'After evaluation, art experts have unanimously agreed that Yun Sculpture created by HH Dorje Chang Buddha III is the most Marvelous and Astonishing form of art in the history of human civilization,' 'Simply upon viewing the art, one will claim, 'Wow! It is super!'[...] In other words, it is a CULT disguised as an art museum.
After a five-month trial period, the museum temporarily shuttered to address problems before the grand opening. And it seems as though the museum has been listening.
"Originally our director wanted the museum to serve as a tribute to the works of HH Dorje Chang Buddha III," explained Director of Museum Operations Dyana Curreri-Ermatinger. "But Dorje Chang Buddha said, 'no, that's not the Buddha way.'" As did just about everyone. So during the renovations, the museum acquired a collection of impressive 18th and 19th century European art to be unveiled on Saturday. Several pieces of Dorje Chang Buddha's work, including ink drawings and sculptures, will also be on display.
Curreri-Ermatinger denies all accusations that the museum is a cult, and notes that it is an unaffiliated non-profit organization. "Our mission is just to provide a place that is serene and peaceful in the otherwise chaotic environment of Central Market." To encourage the public to see for themselves the museum is even offering free admission until October 30.
Art museum? Cult? Sacred Space? Only one thing is for sure: We couldn't be more intrigued.
Check out images of art to be displayed at the opening in the slideshow below:
PHOTO GALLERY
International Art Museum Of America