Food Informants is a week-in-the-life series profiling fascinating people in the food world. We hope it will give you a first-hand look at the many different corners of the food industry. Know someone who would make a great Food Informant? Tell us why.
Geoff Bartakovics, 34, is the co-founder and CEO of Tasting Table, the free daily email publication all about food & drink culture. Before starting Tasting Table, Geoff was a business manager in asset-backed finance at UBS Investment Bank, where he coordinated business activities among the fixed income trading desk and the bank's middle- and back-office functions. Geoff was formerly a business analyst at Deloitte Consulting. He attended The University of Chicago, from which he graduated with honors in English. He was a Fulbright Scholar in comparative literature and philosophy in Berlin and Hamburg. He's an obsessive dinner party entertainer and a serious home cook.
Read Geoff's diary below to learn about the Tasting Table test kitchen, HR hiccups and how many Jell-O push-pops Geoff can eat in one sitting.
Monday, October 3
7:15am: Wake up with a splitting headache after drinking too many Mrs. T's Bloody Marys on a flight home from a wedding in South Carolina. I imagine the 1/2 cup of salt I must have consumed with those bloodies as I run three long shots through the Nespresso into a paper cup, add a malformed lump of bodega sugar, forget to stir, and then swallow three Tylenol before heading to the gym.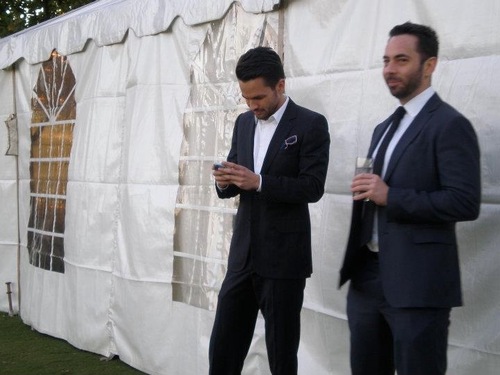 9:05am: "Protein Berry Workout Shake -- pre-boosted!" I don't feel boosted.
Noon: Caffeine high in full effect. Day has begun. Lunch meeting at Kenn & Bob's Broome Street Bar. The greasy burger is served in a pita, so as you eat it, the pita cracks open and the burger juice drips into the little salad bowl that accompanies the dish. It's like bonus dressing.
7:00pm: Dinner party for 14 guests in our Test Kitchen & Dining Room. Our executive chef, Brendan, has a motley crew of freelance chefs cooking with him tonight -- all talented, driven dudes who stepped off the line at top restaurants to do something different. They send out platter after platter of fried smelts with herb aioli and Basque chile, while we drink peaty fall cocktails. The four-course dinner includes lamb belly ravioli with chanterelles and Swiss chard and ends with a nearly perfect brown sugar cake piled high with apples that Brendan cooked sous vide with scotch and thyme. One of his cooks, Dave, adds a dollop of cardamom cream before the plates hit the table.
2am: Portishead, two glasses of water preemptively, sullen.
Tuesday, October 4
7am: I'm not a morning person but I wake up "early" to finish some work before the day starts. Take my to-go cup of coffee and iPad and sit outside Balthazar until the take-out bakery opens at 7:30.
8:30am: Office, emails, angry.
12:30pm: Lunch interview at my neighborhood go-to, Aurora Soho. The most underrated pasta downtown. Roasted brussels spouts salad, agnolotti filled with Chanterelles, cafe au lait and biscotti -- both mine and my lunch date's.
7pm: Joined a chic dinner party in the apartments above MOMA. Vodka on the rocks with a twist to gather my mingling-nerve. Simple, perfectly cooked swordfish and asparagus is served on a buffet in the dining room -- all because we are asked to return to the living room where we sit and eat in a circle. An astronaut is sitting to my right and asks the group if they would be willing to move to Mars if it were a one-way trip. I answer "no" because there are no perfectly al dente purple asparagus with lemon shallot vinaigrette on Mars.
Midnight: Emails, New Yorker (via iPad), calm.
Wednesday, October 5
8:00am: Gym while sipping a venti 120-degree misto -- two sugars.
10:15am: HR hiccup. Tears, apologies (mine), tea.
12:15pm: My colleagues Scott and Kai join me for lunch at Le Bernardin to check out the new dining room. I worked upstairs at UBS for nearly seven years and didn't know what to expect from the new room. It's beautiful (but not too daring) and becomes more so after the champagne and an amuse of langoustine tartare arrives. Eric Ripert comes out to say hello. He's unbelievably charming. Six course lunch plus two desserts. This beats banking.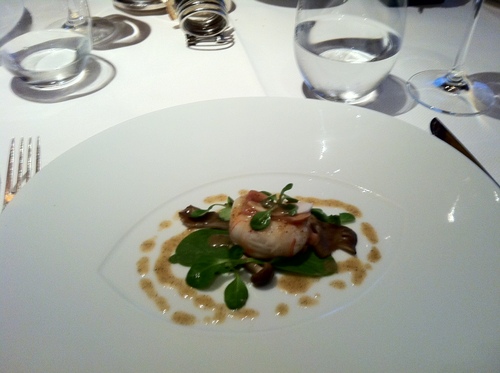 6:30pm: Quickly stop by Bulgari on Fifth Ave for a launch party for San Pellegrino. Hot waiters are serving lucite trays of crepe "purses" filled with a delicious cheese I can't identify and topped with gold leaf for an over-the-top touch. They're delicious despite the goldleaf.
7:30pm: Nabucco at The Met.
9:15pm: Intermission: Furiously inhale a salmon and cream cheese sandwich and a Toblerone bar.
11:30pm: Stop by the Whitney Studio Party at Chelsea Piers. Less attractive waiters are serving glowing lucite trays of jello shot "parfaits" that look like push-up pops. I eat 12 because I'm hungry, sober and no one else appears to want them.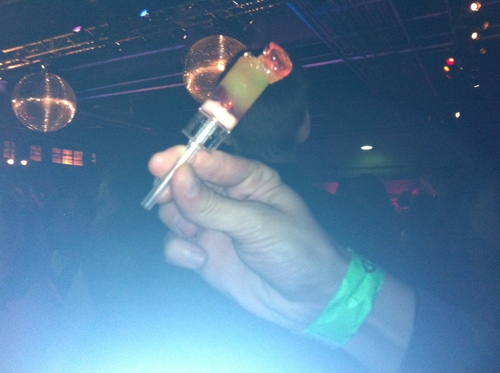 1am: Rye whiskey, last week's Observer, way too alert.
Thursday, October 6
6:00am: Quickbooks, coffee, a breakfast burrito from the freezer. Tired.
9:30am: Meeting to plan our Miami edition launch in January. Nibble a bowl of dry roasted salted peanuts that I left in the conference room yesterday.
1pm: Lunch at my co-founder's newest restaurant, Burger & Barrel. Always buzzy in there, though I'm not in the mood for buzz today. He calls me moody. I am.
6:30pm: Too much coffee. Pit in stomach. Raid our Test Kitchen fridge for a Stella to relax before my last conference call of the day with a fashion industry partner. Didn't love beer until I hit 30.
9pm: Ride my bike to The Dutch to meet my dinner date. Failed to reserve and wait is "one-and-a-half to two hours." Sorry, guys: no place is that good.
9:15pm: Move the date to the bar at the ever-reliable Hundred Acres. The date is a medical resident at Columbia and helps me polish off two dozen oysters before I eat my favorite autumn salad: raw black kale dressed with a citrusy vinaigrette.
11pm: Scotch, Radiohead, relaxed.
Friday, October 7
8am: Gym followed by Protein Berry Workout. Life is fine.
9:30am: My bike was stolen from its post attached to a stop sign on Broome & Mercer last night, so I stop into Bicycle Habitat and buy another one--cheaper this time.
Noon: Hungry, so I stop into our Test Kitchen and find our Food Editor, Rebekah, developing a chocolate chip cookie recipe. I usually don't like chocolate chip cookies but these smell amazing so I indulge. They are amazing.
2:30pm: Fedex delivers boxes of Droga Confections to one of our editors, Tressa, who promptly splays them in the kitchen and starts tasting. I let a handful of fancy gummi worms ("Stampede Centipedes") stain my teeth as I prepare the Quickbooks for a call with my investors.
4:30pm: Today's Tasting Table's third birthday, so our COO Alison has ordered up a 30-minute surprise party for HQ: party hats, balloons, Fudgy the Whale ice cream cakes. I snap some photos and we toast with prosecco before heading back upstairs to our desks to finish out the week.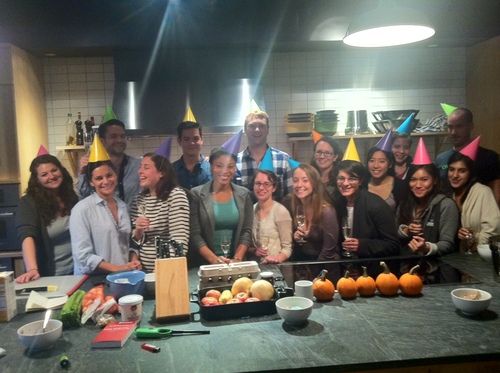 9pm: My night's not going anywhere, so I steal a bag of Gragnano pasta shells that Eataly sent to our editors and use the Test Kitchen induction range to boil water at creepy fast speed. Slowly place my FreshDirect order for a dinner party I'm hosting tomorrow night with eight old friends. Open a Stella.
Midnight: Pretzels, iPad, over-served.
See previous Food Informants below:
PHOTO GALLERY
Food Informants