Reports of Muammar Gaddafi's death in his hometown of Sirte set off celebrations in Libya with hopes that the dictator's reported death will help lead to a peaceful transition of power.
Reuters reports that Gaddafi was wounded in both legs as he fled in a convoy that was under attack from NATO warplanes.
In Tripoli, celebrations are already underway with gunfire and honking, according to the BBC.
Check our live blog below for the latest news from Libya:
10/20/2011 11:32 PM EDT
Interim Prime Minister Weighs In
Time reports:
Libya's interim Prime Minister Mahmoud Jibril told TIME late Thursday night that Gaddafi had been killed in cross-fire between rebels and loyalist fighters while the rebels in Gaddafi's birthplace of Sirt were attempting to carry the wounded colonel to an ambulance.
According to Jibril, Gaddafi was cornered while hiding in a large sewage pipe in Sirt, as rebels closed in on the last bit of disputed territory in the city, about 230 miles east of Tripoli on the Mediterranean coast. "He did not resist, although he had a small pistol," Jibril says. He was shot once in the arm, and then, as fighters carried him to the ambulance, a fierce fire-fight broke out between the warring sides.
Full story here.
10/20/2011 10:35 PM EDT
Gaddafi's Death: Who Pulled The Trigger?
Reuters reports:
Disturbing images of a blood-stained and shaken Muammar Gaddafi being dragged around by angry fighters quickly circulated around the world after the Libyan dictator's dramatic death near his home town of Sirte.

The exact circumstances of his demise are still unclear with conflicting accounts of his death emerging. But the footage, possibly of the last chaotic moments of Gaddafi's life, offered some clues into what happened.

Gaddafi was still alive when he was captured near Sirte. In the video, filmed by a bystander in the crowd and later aired on television, Gaddafi is shown being dragged off a vehicle's bonnet and pulled to the ground by his hair.

"Keep him alive, keep him alive!" someone shouts.
Full story here.
10/20/2011 8:25 PM EDT
PHOTOS: The Gaddafi Family Scrapbook
Via Foreign Policy:
While the killing of Muammar al-Qaddafi today in Sirte begins a new chapter for the free Libyan people, it's also a particularly opportune time to look back at the tyrant's cruel and bizarre 42-year rule. Foreign Policy presents an exclusive collection of never-before-seen pictures and documents from Qaddafi's private homes and state intelligence ministries.
See the pictures here.
10/20/2011 8:07 PM EDT
NATO's Libya Future
Al Jazeera reports:
With the death of Muammar Gaddafi by National Transitional Council forces, questions are now being asked about NATO presence in the North African nation.

After seven months, attacks on 6,000 military targets, and the deployment of 9,500 attack forces, the death of Gaddafi calls the continued presence of NATO in Libya into question.
For more on what to expect, click here.
10/20/2011 7:54 PM EDT
Donald Trump On Gaddafi's Death: 'Big Deal'
Via HuffPost Business:
Hearing the news of Muammar Gaddafi's death on Thursday, many American leaders released statements on what the end of the Libyan dictator's run meant for the world.

"The dark shadow of tyranny has been lifted," said President Barack Obama.

"I think people across the world recognize that the world is a better place without Muammar Gaddafi," said Republican presidential candidate Mitt Romney.

But businessman Donald Trump? He needed only two words: "Big deal."
Watch Trump's reaction here.
10/20/2011 6:28 PM EDT
Celebrating In Tripoli
Celebrations in Tripoli.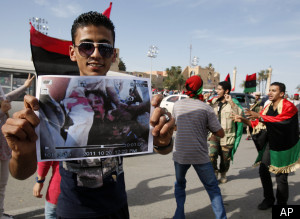 10/20/2011 6:20 PM EDT
What The Plight Of One Persecuted Group Says About The Future Of Libya
Joshua Hersh:
Tawarga is a poor dormitory town 20 minutes from Misrata, whose mostly black population fled in August when rebel forces captured it. Today it is a ghost town, its modest grey breeze block houses empty, the doors broken open, with green flags indicating support for the Gaddafi regime still fluttering from rooftops. Misratans have long blamed the people of Tawarga for murders, rapes and looting in alliance with pro-Gaddafi forces during fighting in March and April. It is common to hear Misratans making derogatory remarks about Tawarga's black population, coupled with the hope that the population, who fled to southern Libya, will never return. On Tuesday homes and shops were set ablaze around the town, some fires starting even as journalists arrived to investigate.
Read the full article on HuffPost World.
10/20/2011 6:14 PM EDT
National And International Reactions
Throughout the day, a range of national and international figures commented on the events in Libya. A small recap.
"The dark shadow of tyranny has been lifted," President Obama said this afternoon in the White House Rose Garden. "You have won your revolution," Obama said. "One of the world's longest-serving dictators is no more."
Vice Presiden Joe Biden said in a speech he saw useful lessons in how the U.S. and NATO carried out the Libyan mission. "In this case, America spent $2 billion total and didn't lose a single life," Biden was quoted by the Associated Press. "This is more of the prescription for how to deal with the world as we go forward than it has been in the past."
In a statement, Nancy Pelosi said the news of Gaddafi's death "marks the next phase of Libya's march toward democracy.
Swedish Foreign Minister Carl Bildt on the other hand said his country had preferred Gaddafi to have been captured alive, "so that he could be brought to justice."
The French Foreign Ministry announced in a statement that the death of Gaddafi has brought about the end fo a tyranny for Libyans.
British Prime Minister David Cameron reminded that Thursday should be a day "to remember all of Colonel Gaddafi's victims."
10/20/2011 5:50 PM EDT
Chavez Calls Gaddafi A Martyr
Venezuelan President Hugo Chavez called former Libyan leader Muammar Gaddafi "a martyr" and said his death was "an outrage," AFP reports.
"Sadly the death of Gaddafi has been confirmed," told reporters in La Grita. "They assassinated him. It is another outrage.. We shall remember Gaddafi our whole lives as a great fighter, a revolutionary and a martyr," he said.
"The saddest thing is that in its quest to dominate the world, the empire and its allies are setting it on fire," Chavez added, referring to the United States.
10/20/2011 5:43 PM EDT
Gaddafi's Ukrainian Nurse Speaks
The Daily Beast interviewed Gaddafi's former Ukrainian nurse Oksana Balinskaya. She said she's devastated by his death and considers Gaddafi a "brave hero."
Read more on the interview on the Daily Beast Website.