Family vacations in the Northeast can be rewarding experiences or absolute disasters -- it all depends on pretrip homework. To make planning easier, we've done all the preparation. As part of a Huffington Post Travel series on traveling with children, here are recommended attractions for those planning Northeast family vacations.
The Empire State Building
As the tallest building in Manhattan, this
102-story structure
offers its visitors an aerial view of Gotham off of the observatory deck. Just a couple quarters will let you zoom in on the view from the Statue of Liberty through its stationed binoculars.
Address: 350 Fifth Avenue, New York, NY 10001
Phone: 212-736-3100
Hours: The Empire State Building is open daily from 8 a.m. to 2 a.m.
Price: Adults, $21; children $15.
Please Touch Museum
Please Touch
is an interactive museum geared toward children 7 and younger. It's as hands-on as its name implies. There are a number of unique attractions, such as 'The Walking Piano,' from the iconic FAO Schwartz scene of the film 'Big' with Tom Hanks. There is also a replica of the arm and torch of The Statue of Liberty made from repurposed toys.
Address: 4231 Avenue of the Republic, Philadelphia, PA 19131
215-581-3181
Hours: The museum is open Monday through Saturday from 9 a.m. to 5 p.m. and Sunday from 11 a.m. to 5 p.m.
Price: General admission, $15.
Knoebels Amusement Resort
Visiting Knoebels Amusement Resort is like stepping back in time where both admission and parking are free and kids can ride a 98-year-old carousel. Part of the charm of the park is that many of the rides are literally from a by-gone era, like 'Old Smokey,' a coal-fueled miniature locomotive from the '50s. Reasonably priced tickets for an all-day pass mean guests can afford to take their time and see all the resort has to offer.
Address: 391 Knoebels Blvd., Elysburg, PA 17824
Phone: 800-487-4386
Hours: The resort is open June, July and Aug. from 11 a.m. to 10 p.m. It is open May and September weekends noon to 8 p.m.
Price: General admission: free; Rides range from 75 cents to $5.
Ocean City, NJ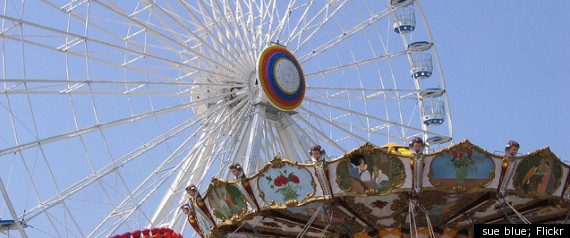 You won't see Snooki and her Jersey Shore pals along this Garden State playground. Ocean City is a family-oriented dry town with plenty of rides, sand and surf. There's also a popular boardwalk, perfect for taking photos and enjoying the sunny surroundings.
Address: Ocean Avenue, Ocean City, NJ
Phone: 800-BEACH-NJ
Hours: The beach is open 24 hours, daily.
Price: Free.
The Philadelphia Zoo
The first zoo in the United States,
The Philadelphia Zoo
was founded in 1859 and is home to more than 1,300 animals, many of which are rare, endangered or both. The subterranean eusocial rodents, bats with three-foot wingspans and monkeys with bright orange fur are among the more unique animals housed there. In addition, the children's zoo offers paddle boating on its lake and a rainforest-themed carousel.
Address: 3400 W. Girard Ave., Philadelphia, PA 19104
Phone: 215-243-1100
Hours: The zoo is open daily March through October from 9:30 a.m. to 5 p.m.
Price: Adults, $18; children, $15.
Museum of Science, Boston
Boston's
Museum of Science
boasts more than 500 interactive exhibits, including the 2,000-pound triceratops fossil and the butterfly garden. The discovery center offers parents the opportunity to speak with scientists and for kids to participate in science-related experiments.
Address: 1 Science Park, Boston, MA 02114
Phone: 617-723-2500
Hours: The museum is open Saturday through Sunday from 9 a.m. to 5 p.m. Saturday through Thursday. During the summer the museum extends its hours. Please call or check the website for more information.
Price: Adults, $22; Children, $19.
Hershey's Chocolate Factory Tour
The ever-popular Hershey's Chocolate offers family tours of its main factory, during which visitors get to make their own chocolate bars and see the inner workings of a functional chocolate factory as the tour guide reveals how chocolate confections are made. Probably most important are the chocolate tasting portions.
Address: 251 Park Boulevard Hershey, PA 17033
Phone: 717-534-4900
Hours: The factory is open June through Aug. from 10 a.m. to 11 p.m. Hours vary much during the rest of the year depending on season.
Price: Prices range from free to $12.95.
What are you family's favorite vacation destinations in the Northeast?
Check out more FAMILY TRAVEL GUIDES.
Photo: Magnus Nordstrom; Flickr
Photo: Sue blue; Flickr