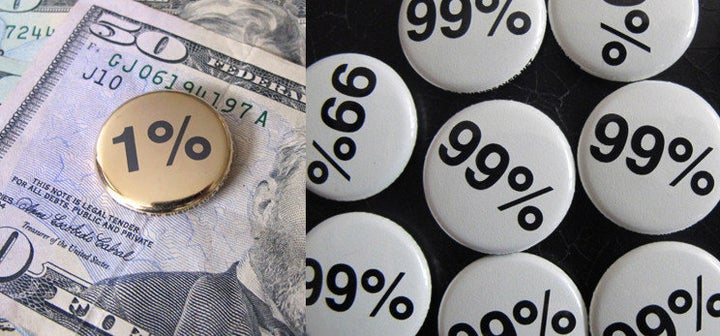 Chicago-based business Busy Beaver Button Co. is getting caught up in the Occupy Wall Street movement with the production of limited-edition buttons to represent the cause. But in the spirit of equality, they're offering products for both factions.
"Democrat or Republican, Cubs or White Sox, kittens or puppies -- we make buttons for them all," Busy Beaver Co. wrote on their website. "We try to keeps things non-partisan here at Busy Beaver, so when we decided to create commemorative buttons for the nationwide Occupy Wall Street rallies, we knew we needed to represent both sides."
For the 99 percent, many of whom have spent nights on the streets protesting, the company made glow-in-the-dark buttons printed with "99%," which they're selling below cost in the spirit of the movement. Ten buttons will only cost $7, making them easy to share with the masses.
The one percent can patronize an even more limited-edition product, with "1%" printed on a 24k gold button, to "let the other 99% know who's boss," according to the company's site. This piece of top-tier pride boasts a $100 price tag, and 50 percent of the profits from the sale of one percent buttons will be donated to the Association House of Chicago, which helps families affected by social and economic instability.