Occupy Chicago protesters haven't had much luck finding a permanent home in Chicago. They have reportedly been told by police to "keep moving" at all times, and have been arrested for refusing to leave Grant Park. Last week, members of the movement met with city officials, who told them they could not stay in Grant Park after hours -- and that charges against those arrested would not be dropped.
A resilient bunch, they carried on. Occupy protesters headed to the James R. Thompson Center Thursday for a candlelight vigil in honor of Iraq war veteran U.S. Marine Scott Olsen, who was left in critical condition after an altercation with police at Occupy Oakland in California. As the group silently approached the state-run center, they were met by a wall of state troopers.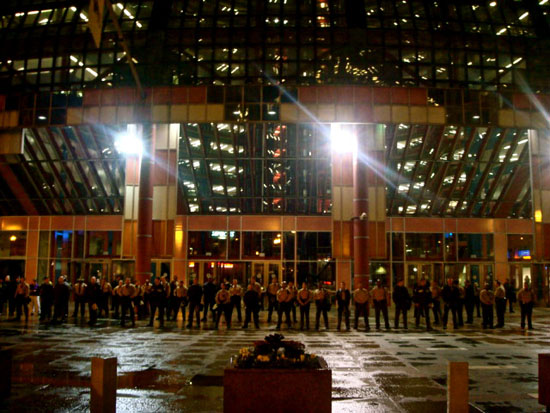 Photo via Occupy Chicago

"There is no where to practice free speech in Chicago," Occupy Chicago tweeted after they were asked to leave the Thompson Center.
The police obstruction, which Time Out Chicago explains in detail, may have surprised some occupiers who thought Illinois Governor Pat Quinn would be more sympathetic to their cause. Last week, Quinn told reporters that "Wall Street ran the American economy into the ditch" and that social movements han have a great impact on American society.
"I think it's healthy that people come together," Quinn said. (Scroll down for video) "Great movements in our country have come from people .. getting their voices heard."
So, after they were booted from the Thompson Center, the group fired back: asking supporters to contact Quinn's office about what went down at the Thursday night. They also gathered outside the Union League Club Monday night, where Quinn was speaking to diners. When asked again what he thought about the movement, he reportedly said they should "organize for a cause." As the Chicago Sun-Times points out, he was referring to his cause:
Quinn had already complained to the luncheon crowd about state legislators overriding his veto of a bill that lets Commonwealth Edison raise utility rates to upgrade infrastructure every year for the next 10 years.

"Last week, we had the biggest consumer battle in a generation in Illinois," Quinn said. "It's important if you're doing an 'Occupy' movement, maybe to get down to the state capitol, help with the program y'know?" Quinn said to laughter. "We're trying to win for the 99 percent of consumers who aren't very happy about Commonwealth Edison's big increase. You've got to be an organizer, figure out where the people are. I know the people are on our side. Consumers did not get a fair shake. We've got to come back and win in the days ahead. Maybe the folks outside could beat the drums for that."
One of the protesters outside told the paper that they wanted Quinn to come out and talk to them, but didn't bite on the ComEd comments.
"The governor is using one [issue] to throw a red herring in the middle of the Occupy Chicago message," the protester told the Sun-Times.
Chicagoist pointed out that even though some protesters might agree about the ComEd rate hikes being bad for consumers, Quinn is missing the point:
"While it's possible Quinn and Occupy movements might have similar views regarding this particular issue, Quinn is ultimately part of the political process Occupy opposes."
WATCH Quinn discuss the Occupy movement during a press conference last week here: