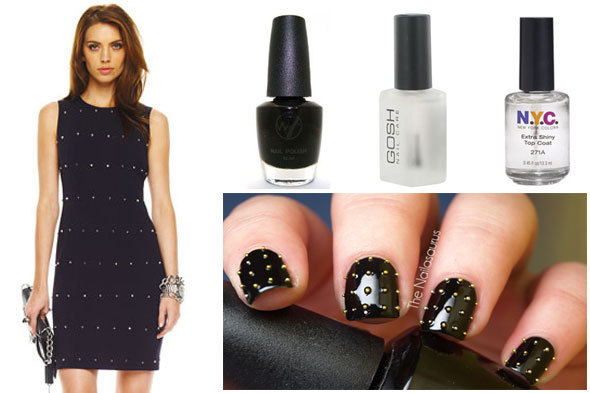 Photos: MICHAEL Michael Kors Studded Sheath Dress; W7 nail polish in Black; Gosh Top Coat; N.Y.C. Top Coat; Samantha of The Nailasaurus' studded manicure.
Want to show off your rocker side without trying too hard? We've discovered a hardcore manicure that may motivate you to toss your go-to red or nude nail polish.
Samantha of The Nailasaurus admits on her blog that she's "not a very fashion conscious person." But after a Google search of the term "fashion," she stumbled upon a simple studded sheath by American designer Michael Kors -- the inspiration behind these badass nails.
"This dress is so classic, yet the studs give it that rock-chick rebel vibe. I love it!" Samantha writes.
The nail art enthusiast perfected this design by painting on W7 Nail Polish in Black as her base color. Then she applied Gosh High Shine Top Coat and stuck on tiny gold studs using a toothpick before the lacquer dried. Samantha sealed the look with N.Y.C. New York Color Extra Shiny Top Coat.
What do you think about this Michael Kors-inspired manicure? Tell us in the comments section.
Meanwhile, check out this "harlequin hardware" nail art.
BEFORE YOU GO