Casting Lisbeth Salander wasn't the easiest thing for director David Fincher. He already remarked that Scarlett Johansson was too alluring for the role. So when he offered Rooney Mara the title role in "The Girl with the Dragon Tattoo," it came with some very unsavory stipulations.
In this week's Entertainment Weekly cover story, the famed director of "The Social Network" recalled that he put on no airs about what Mara would have to do. "I told Rooney, 'You're ­going to be emaciated, you have to be naked, you have to get raped [on screen], get pierced, smoke cigarettes, ride a motorcycle."
It turned out to be a very long ride for Mara, who told Empire Magazine that, at first, Fincher had no interest in seeing her.
After two and a half months, and man, many screentests Mara was called for one final test. The actress was practically fuming.
"I was like, 'You guys have to decide if I'm this girl or not, because I have to move on with my life at some point.' Of course, I didn't say any of that. I was like, 'Fine, whatever!'"
When she was finally offered the lead, Mara was unfazed by the rape, nudity, piercings and cigarettes. According to EW's cover story, the one thing that shook the star was the motorcycle.
"The ­motorcycle was the thing I ­really didn't want to do. You know, you're ­going to be raped, be naked… But as soon as he was like, 'You're going to have to ride a motorcycle,' I was like, 'Oh, really?'"
Physically, she has made the transformation into the badass hacker without blinking.
"I didn't freak out at all. Because at that point, I'd already been sort of in the part, like researching it, for two months, so to me the hair was weighing me down. I wanted to get rid of it. They were going to wait longer. I was like: 'You just need to do it!'"
For more on "The Girl with the Dragon Tattoo," click over to EW.
PHOTO: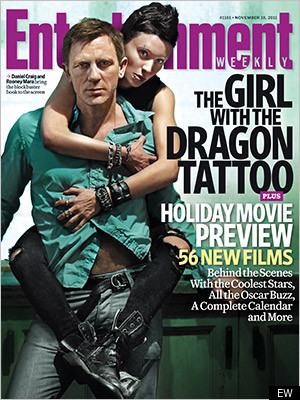 BEFORE YOU GO