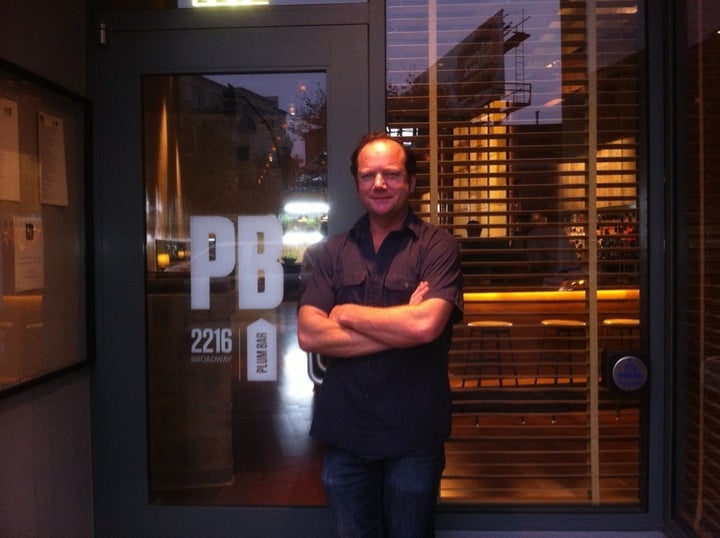 Current gig: Already the famed cocktail consultant at Cyrus and Spoonbar in Healdsburg, Beattie is now opening Plum Bar (the neighboring bar at Daniel Patterson's Plum) on Friday in Oakland, as well as Haven restaurant with Kim Alter in Jack London Square.
Neighborhood: Born in Laurel Heights, raised in the Sunset and now overseeing bar programs at Cyrus, Spoonbar, Plum Bar, Haven and Hog and Rocks from his control tower in Healdsburg.
Years in the Bay Area: Life
Plum Bar opens on Friday. Tell me about it. When we opened Cyrus, I did a lot of eccentric hyper-seasonal stuff because of its location in Healdsburg. And Spoonbar was about having the best classic cocktail -- the best negroni, the best manhattan. But Plum Bar is going to be the culmination of those things. The only goal is deliciousness. We can do whatever we want.
What's your favorite cocktail on the menu at Plum Bar? Well we didn't include a single drink that isn't a ten on that list. But my personal favorite is the Terroir Collins. It's one of the simplest drinks on there, but it's so aromatic; the glass is filled with bay laurel leaves. I'm very nostalgic of bay laurel because I grew up here -- that's what it smelled like on the coast when I was a kid, and that's what it smells like when I go mushroom foraging now. I tried to capture that smell in a glass, so there's also wild fennel and huckleberry too. I get a cooling effect just looking at that drink. I think speaks to what Plum is all about: something simple but incredibly unique.
What do you order when you go out for a drink? I like straight, brown spirit cocktails. I'll get a manhattan or an old fashioned or good straight whiskey with a beer on the side. I also love mezcal and tequila -- that's the sort of thing I get when I'm not working. But if I'm at a mixology bar, I'll just leave it in the hands of the bartender.
What drink do bartenders mess up the most? I've had some bad negronis. If you walk into a bar that has a cocktail program and you don't see people measuring the ingredients, that's a bad sign. That's something I had to learn. One time at Cyrus, this very big time cocktail consultant, Ryan Magarian, came in and I made him a drink. He stopped me right in the middle and scolded me for not using jiggers. I was so pissed off and I got all gruff about it: 'Who does this guy think he is coming into my bar?' And years later when I started writing the book, I realized how paramount it is that readers measure exactly. The difference between one dash of bitters and three is catastrophic. Now I measure everything.
You were born and raised in the City. What are some of your favorite spots? If there isn't a Yank Sing in heaven, I don't want to bother going.
And I love Slanted Door and Mission Chinese. And Beretta -- I'm there a lot, especially since Ryan Fitzgerald's cocktail program is so fantastic. And I'll always love Tomaso's; I grew up there. Some of my earliest memories are at that restaurant.
What about bars? Well I'm really excited for John Santer's new bar, Prizefighter, in Emeryville. That's gonna be a good one. Right now I love the Hotsy Totsy Club in Albany. And I spend a lot of time at the Alembic. Of course, I never get tired of the Bourbon and Branch bars, and I also love Wo Hing, Charles Phan's new Chinese restaurant. They've got great cocktails and food.
Surely you didn't start your bartending career at Cyrus. Where did you work before? My first serving job was at Perry's on Union Street. I loved that restaurant and I still do; I go there all the time. There's a reason it's been there for 40 years. Then I worked at bars all over the city.
Any horror stories? I've got a million horror stories. But the worst ones were at nightclubs. When I worked at Club 11 and Blue Light, it was a totally different scene: the bar fights, people throwing up in the bathroom and you gotta clean it up when you're trying to make drinks. Nobody cares about quality -- they just want another and another and another. I remember there would be bar fights at Blue Light and I couldn't get through the crowd, so I'd literally have to jump over the bar to break it up. For a while, I bartended at Blue Light on Saturday night and then worked the brunch shift at Perry's across the street on Sunday morning. It was hard, hard work. Your back hurt, your hands ached from always being wet. But you know what? In hindsight, it was a blast. Eventually you kind of enjoy the pain of it and it's satisfying -- you make people happy and there's never a dull moment.
And that first sip of beer at 5 p.m. on Sunday is the most delicious thing you've ever had in your life.