Over 50 years later, Beatlemania is still in strong effect: A letter written by the former Beatles bassist offering an unknown drummer an audition just sold for $55,000.
It's not the only bit of Beatles ephemera to hit the auction stage. John Lennon's tooth (perhaps a less revealing bit of memorabilia -- or just more disgusting) sold recently for $31,200.
The letter, written in 1960, features McCartney extending an offer for the young drummer to play for the Beatles, emphasizing that the musician must be able to travel to Hamburg soon after. It was apparently folded into a book at a car boot sale (basically, a British flea market), where some lucky guy found it. A cardboard sign with the words "Bed Peace," made by Lennon during his second bed-in with Yoko Ono in 1969, sold for $153,000 this month.
The letter, closer up: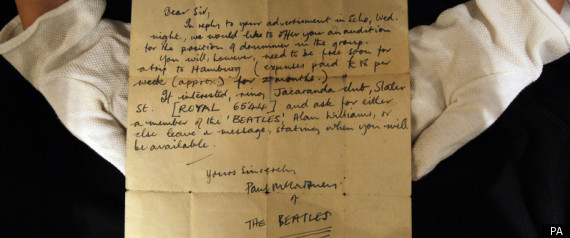 Check out our slideshow of The Beatles' recent pop culture domination: