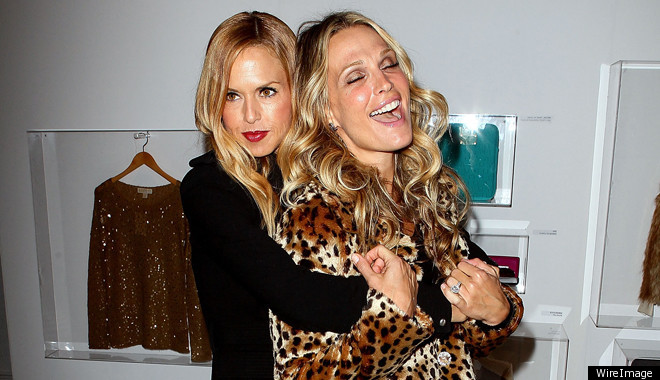 Zoe with supermodel Molly Sims at the Piperlime Piping Hot Style Lounge in NYC.
Although Deborah Messing was across the street filming her latest project, it was her former stylist, Rachel Zoe, that caught everyone's attention in SoHo on Wednesday November 30th.
Outside of the Piperlime Piping Hot Style Lounge in NYC, a line of fans formed - the first girl arrived at 5:30am! - and each one looked like a mini-Zoe: fur vests, over-sized shades and piles of gold jewelry were replete.
The Bravo star - who looked sleek and sophisticated in a military-inspired jacket and flared trousers from her first collection - was accompanied by her husband Rodger, and a slew of PR girls. After grabbing her "'grino" (that's short for Pelligrino) she sat down with Stylelist and answered our questions about baby Skyler's Christmas gifts and what she'd like to see newly-engaged Anne Hathway wear on her wedding day.
What are you asking for this holiday season?
I haven't thought about it really – just a vacation with my husband and my son is going to be the best gift I can have at this point, just time with them and relaxing. Being with friends and family is all I care about.

What are you giving baby Skyler this Christmas?
Every day is Christmas for my son! At this point, just a thousand kisses – lord knows he doesn't need anything.

Does Skyler already have favorite items in his wardrobe?
There are certain things we go to – there's this brand, Paige Lauren and it is the softest, most delicious, things. And Under The Nile Organics – these things are just soft, soft, soft and comfortable. But believe me, I have a lot of favorites!

What's your favorite?
Gucci everything! Gucci baby is just the most incredible, extraordinary baby line. Ralph Lauren baby, Bonpoint, Missoni I mean all of it – I'm now obsessed with baby clothes.

What would you like to see Anne Hathway in on her wedding day?
I think Annie will always make the best choice for her. She will look like a stunning bride and it will just be amazing.

Since award season is upon us, what are some trends you'd like to see on the red carpet?
I like to see a nice mix of long and short, T-length and cocktail, I think it's more mixed up now – it's not about big ball gowns.

Are there any big designers that you'd like to see do a collaboration?
That's a tough one – Karl Lagerfeld has done it at this point, so where do you go from there?
CELEBRITY RELATED LINKS YOU MAY LOVE:

What Was J.Lo Thinking? - The Daily Beast

How Celebs Wear Their Pretty Lace Pieces - FabSugar

Charlize Theron Was A Nerd In High School - The Frisky

Check Out Blake Lively's Awkward High School Photos - The Gloss
BEFORE YOU GO