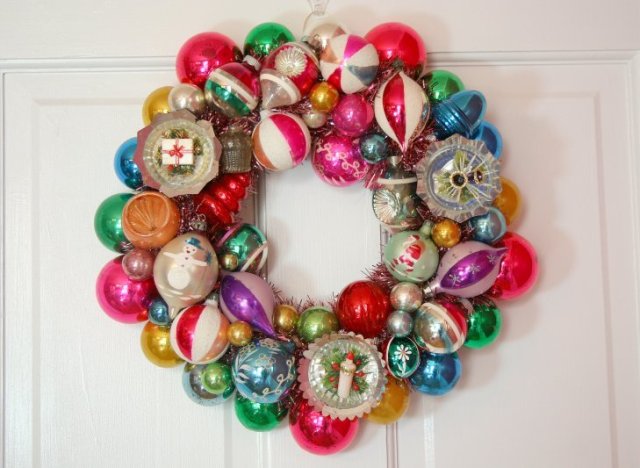 Flickr Photo by Suzy Spence
During the holiday season, ornaments are an irresistible impulse buy. You'll go to the store knowing you have an entire tree full at home, but walk out with a dozen more in your shopping bag anyway. We understand - we can't help it either! This year, why not showcase all your excess ornaments with this great DIY wreath? The unique display is colorful and most definitely festive. We love the vintage vibe to this wreath, but using shiny new globes or homemade treasures would look fantastic as well.
What You'll Need:
Ornaments (varied sizes)
Foam wreath form
Hot glue gun
How To Make It:
1. Remove the metal 'hanger' pieces from the ornaments and separate all the ornaments into size-based piles.
2. Glue the pile of the largest ornaments to the foam form, dispersing them even around the wreath.
3. Move to the medium sized ornaments and repeat.
4. Fill in the empty space with the smallest ornaments. At this stage, you may be glueing them to other ornaments and not to the foam form, which is fine. (You can also try filling the space in with other items like painted acorns or tinsel).
5. Wait for the glue to dry and you're done.
Check out these other unique ways to decorate with ornaments.
And, be sure to check out our other great crafts in our Craft Of The Day slideshow below.
Have something to say? Check out HuffPost Home on Twitter, Facebook, Pinterest, Tumblr and Instagram.