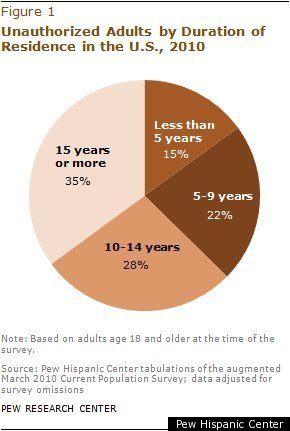 A new report from the Pew Hispanic Center estimates that nearly two thirds of the 10.2 million undocumented immigrants living in the United States have been in the country for at least ten years, based on their analysis of data from the U.S. Census Bureau.
The study, released Thursday, comes a little more than a week after GOP presidential candidate Newt Gingrich stirred controversy by saying that undocumented immigrants who have been in the country for more than 25 years or have familial ties to the United States should be allowed to stay.
Gingrich favors a path towards citizenship in such cases -- a policy critics call a form of "amnesty" which would encourage other immigrants to cross the border illegally. Gingrich said he was willing to "take the heat" for promoting a "humane" approach to enforcement of immigration law.
The Pew study also found that nearly half of the undocumented immigrant population are parents of "minor children."
According to a recent report from the Applied Research Center, in the first six months of 2011, the Obama administration deported 46,000 parents of children who are U.S. citizens. The Obama administration's record-setting deportation rate has left an estimated 5,1000 children in U.S. foster homes -- a number which could triple in coming years, according to the Applied Research Center's report.
Although Gingrich has faced heavy criticism from the Republican Party for his position on immigration, he said he didn't believe "the party that says it's the party of the family" would "adopt an immigration policy which destroys families that have been here a quarter century."