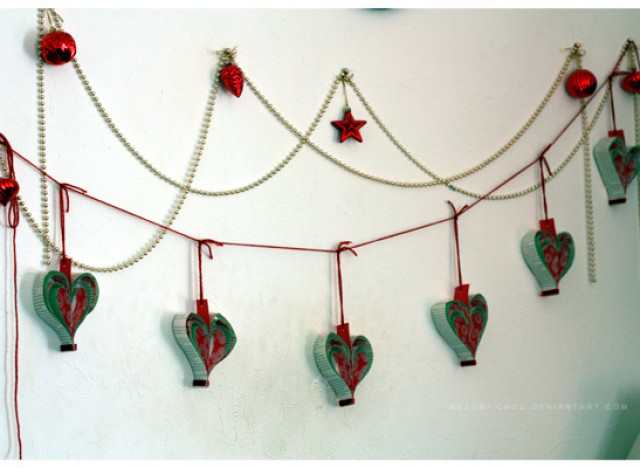 Flickr Photo by nezumichuu
There's nothing wrong with running fresh greens down your stair rail or filling bowls with ornaments, but we're trying to find a new way to decorate for the holidays, and today's Craft Of The Day fits the bill. This paper heart garland is unexpected, simple to make and can be paired easily with other items to create a festive atmosphere. Added bonus: you can personalize the paper you choose, making this craft perfect for Christmas, Hanukkah and New Year's.
What You'll Need:
Decorative paper (double-sided if possible)
Stapler
String
Scissors
Hole Puncher
How to Make It:
1. Cut the paper into 1-inch wide strips. (Each heart requires at least seven strips).
2. For the layered effect, cut two strips to a shorter length, two strips to a medium length, and leave the remaining three as is (two of these will be the outer-layer of the heart and one will be the middle piece). If you want more layers, cut two more strips down to a different height.
3. Lay the strips on top of one another. Start by grabbing the middle strip, then take the two shortest strips and place them on either side of the middle strip (make sure the same decorative pattern is facing out). Do the same with the medium strips and again with the longest strips. (In the end, you will have a pattern like this: long-medium-short-long-short-medium-long).
4. At the bottom, staple the pieces together.
5. Starting with the smallest strips, fold each piece inwards towards the middle strip into a heart shape. Staple one layer in place before moving on to the next.
6. When you've finished folding the heart layers, punch a hole through the middle strip and run a string through the hole, tying a not on either side to prevent slipping.
7. Make five or six more hearts, add them to the string and hang the finished garland on your wall.
And, be sure to check out our other great crafts in our Craft Of The Day slideshow below.
Have something to say? Check out HuffPost Home on Twitter, Facebook, Pinterest, Tumblr and Instagram.